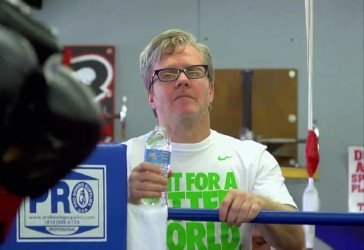 By Michael Collins: Well, Amir Khan has finally pulled the trigger and dumped his trainer Freddie Roach after suffering back to back losses in his last two fight. You had to figure someone was going to end up a casualty after Khan's latest failing and unfortunately for Roach it's him that's being dismissed. According to Dan Rafael, Virgil Hunter, the trainer for WBA/WBC super middleweight champion Andre Ward, is a leading candidate to get the job.
Khan said on his twitter yesterday: "Officially I've left Freddie Roach. Just spoke to him and had a good professional chat and maybe in the future we (will) work together. Freddie understood why I'm looking at other trainers and wished me all the best for the future."
It's somewhat surprising that Roach is being released from his position because he helped Khan capture two world titles at light welterweight. It's hard to blame Roach for Khan's loss to Lamont Peterson, a fight in which Khan could have won had he not shoved Peterson so often. Khan had warnings from the referee to stop shoving but he continued to do it and ultimately it cost him two points in deductions.
Khan had wanted Roach to devote more time to training him. However, with Roach already overloaded with talented fighters like Julio Cesar Chavez Jr. and Manny Pacquiao, he couldn't drop things to be there with Khan whenever he wanted him to. These things had to be worked out around Roach's busy schedule. It was still a doable situation, however, but it took effort for Khan and Roach to make it work.
Khan was knocked out in the 4th round in his latest fight against WBC light welterweight champion Danny Garcia last July.
If Hunter gets the job it still may not change anything with Khan. Hunter is a good defensive trainer, but Khan will still have to take hard shots from time to time. If he doesn't follow Hunter's instructions to the letter Khan could continue to suffer additional knockout losses in the future.