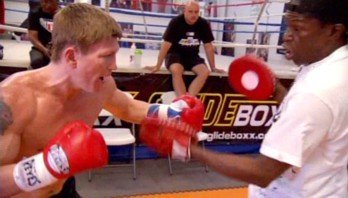 By Michael Collins: Ricky Hatton (45-2, 32 KO's) is like a big kid in a candy store now that he's decided to make a comeback on November 24th against who knows what kind of opponent. Hatton, 33, will be fighting in Manchester, England on the 24th of November and his opponent will probably be a soft touch brought in for him to shake off the ring rust from three years of inactivity huge weight gain. Hatton says he's interested in facing Amir Khan, Floyd Mayweather Jr., Manny Pacquiao and Kell Brook. That's a pretty impressive list I must say, but I don't know that Hatton's chances are good at beating any of them.
Even a fragile chinned Khan or the stamina plagued Brook could be enough to trip Hatton up before he's had the chance to make the really cash in fights against Mayweather and/or Pacquiao. If Hatton is serious about wanting Mayweather or Pacquiao, he's going to need to skip the Khan and Brook fights and go straight to Mayweather or Pacquiao. Those guys are getting older and it's doubtful they'll be hanging around too much longer.
Hatton told the Manchester Evening News "I'd love to get a crack at them [Khan and Brook]. I dream about another go at Mayweather and Pacquiao, without a doubt. The ultimate goal is to redeem myself."
Given the time off from boxing all that weight that he piled on during that period of eating rich food and living an easy life, Hatton might find himself struggling to get back to where he was before. The chances are high that the best that Hatton can attain in a comeback is perhaps 60-75% of what he once was. What's working against him is that he was never a huge puncher to begin with, and needed to batter his opponents into submission with body and head shots on the inside. That kind of style requires that Hatton be able to take a lot of punishment and it's really questionable whether Hatton can still take a hard shot after his knockout losses to Mayweather and Pacquiao. Hatton was even staggered by guys like Juan Lazcano and Luis Collazo.