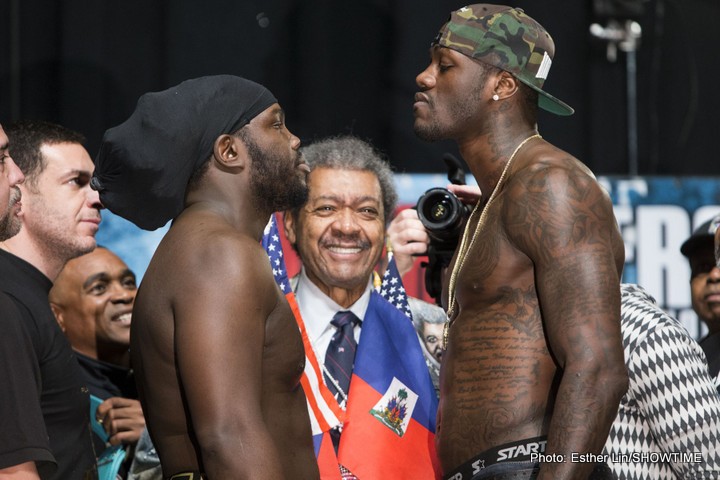 It is the fight Bermane Stiverne, and the WBC, wanted all along: a rematch between Stiverne and Deontay Wilder. Now, due to the crazy goings on with Luis Ortiz and his failed drugs test (one Ortiz claims innocence over, saying he merely took medication for high blood pressure) former champ and current WBC mandatory challenger Stiverne will get what he wants.
But despite Stiverne's happiness, precious few fight fans are as giddy over these unfortunate developments. Fans were hugely excited about, as well as curious to see, Wilder rumbling with the unbeaten Cuban lefty; in a fight many were calling the biggest, stiffest test yet in the entire career of the 38-0(37) Wilder. Now, through absolutely no fault of his own, Wilder must go over old ground. Really the only question going into Wilder-Stiverne II is, will Deontay be able to score a KO or stoppage this time round?
Wilder, who won a wide 12 round decision over Stiverne to lift the green belt back in January of 2015 (on the great Muhammad Ali's birthday) has flattened or otherwise taken out each and every other opponent who has stepped into the ring with him, with the Alabama bomber having to settle for beating Stiverne "within an inch of his life" almost three years ago.
Again, fans wanted to see if Wilder's powerful, at times wild fists would be able to make Ortiz his 38th KO victim, but we must now tune in to see if Wilder can go one better in his return with the man known as "B-Ware," and make the Haitian veteran his 38th victim of destruction. The November 4 card, still a solid one – with can't-miss entertainer Shawn Porter set to face tough and hungry Adrian Granados in a WBC final elim at 147 being a fight worth tuning in for all by itself – figures to pull in quite a crowd and TV audience, but there is an inevitable sense of disappointment attached. Or frustration if you're Wilder.
How many fighters who were set to challenge Wilder failed a drugs test instead? Three. This run of incredible bad luck inspired Wilder to claim he is the most feared fighter since the days of the peak Mike Tyson; with top fighters choosing to cheat rather than face him on a level playing field. You can believe that if you want, but one thing is undeniable: Wilder is pissed right now and he aims to take his anger/frustration/hurt/woe/disappointment out on Stiverne next month.
Stiverne, 25-2-1(21) had better see to it that he's in top fighting shape. Certainly he better be in better shape than he was the last time we saw him in action, when he was dropped by Derric Rossy before winning a decision in November of 2015. If he's not, the former champ who will turn 39 three days before the fight will indeed become Wilder's 38th KO casualty.