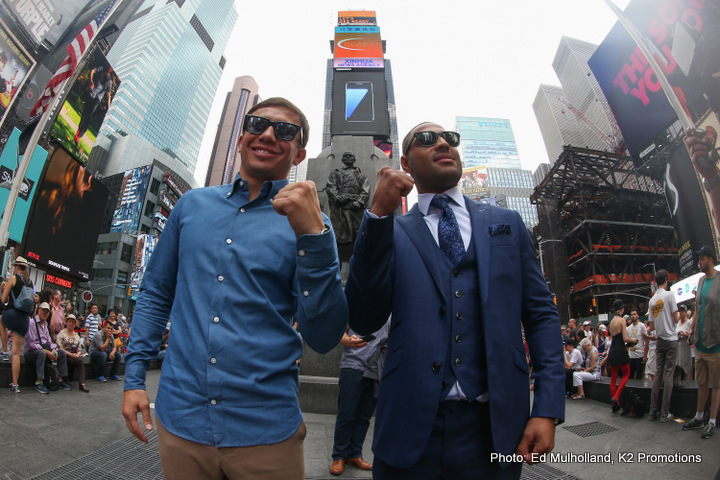 All fight fans agree it will be a huge upset, definitely The Upset of The Year, if Sheffield's Kell Brook defeats feared middleweight king Gennady Golovkin next month. But one man, in speaking for the entire gym at which IBF welterweight champion Brook trains, insists a Brook victory will NOT be an upset – to him or to the fellow occupants of the Sheffield gym.
Atif Sadiq, who has sparred with Brook on countless occasions, told The Sheffield Star that Brook's sheer physical strength will prove the difference on September 10. Sadiq says Brook also has incredible mental strength and that this too will prove to be a factor three weeks today.
"When people see him in the ring with GGG then they will know," Sadiq said. "Kell's strength will really be a factor. He'll be so much stronger. Another big advantage Kell has is his mental strength. Nothing gets to him. It's what sets him apart. He's not fazed by anything. It won't be an upset for the gym when he wins – we expect him to beat GGG."
Brook told Sky Sports that he is pushing himself to the absolute limit in the gym so as to be fully ready for what he acknowledges is a tough fight, THE toughest of his career. But, as fight fans know, looking great in the gym is something entirely different to looking great in the actual fight. Brook does seem to have real mental strength, however. Far from simply saying the right things going into the big fight, Brook has that look in his eye when he says he is going to win – that look that lets you know when a fighter really believes he is going to win.
Brook is a big underdog going into this fight, but he is not without his supporters. Brook raised eyebrows when he tipped-in at the WBC 30-day check weigh-in at a quite astonishing 176-pounds. Brook, if he can maintain his speed at middleweight, could test Golovkin – something GGG said himself. When a fighter really, truthfully, absolutely expects to win, and when all the people around him expect him to win, we usually have a very interesting fight on our hands.
This is actually something everyone agrees on: Golovkin-Brook will be an interesting fight. GGG is still picked to win via KO (his trainer Abel Sanchez predicting a win inside 5 rounds) but there is a growing consensus that says this fight will not be a mere formality for Triple-G.