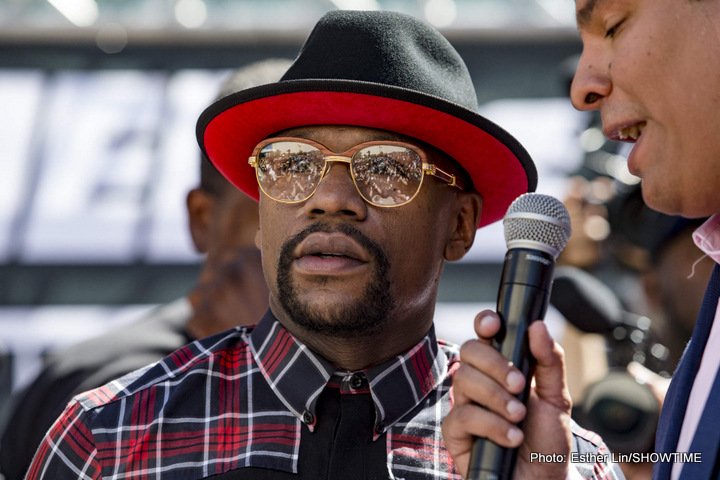 Unless he changes his mind again, superstar Floyd Mayweather will step into the ring with Japanese kickboxer/MMA fighter Tenshin Nasukawa on New Year's Eve. But is the fight going to be just that, a real fight, or will it merely be an exhibition? Floyd clearly thinks it will be the latter, yet an MMA expert has shared his opinion on how Mayweather is totally wrong in thinking this way, and that he is being set up to take a very public fall in Japan.
MMA analyst Chael Sonnen, via an article that first appeared on BJPENN.com, says there will "100-percent be a winner announced that night, no matter what Floyd has been told." And Sonnen says that winner will not be "Money" Mayweather.
"There is a chance the promoters have sold him on the idea (that the fight IS just an exhibition of three, three-minute rounds) and even put it in the contract, 'hey, this is an exhibition, this is just for fun, you're going to go in and move around with this guy.' When he gets to Japan, where he does not have a commission, he's quickly going to find out the other guy was not told that. The other guy is coming out to fight. The other guy is trying to come to win and knock him out. If he thinks, even if he has a legally written contract that it's going to be an exhibition, meaning at the end of three rounds they both smile and hug and walk away, he's wrong. At the end of this contest, if Floyd does not get the jump on this guy for the better part of three rounds, they will raise the other guy's hand, 100-percent.
"Let Floyd go to the media, let Floyd sue them in court…..they will not care."
So could Sonnen be right? Is Floyd walking into a Japanese ambush? The result, whichever way the bout goes, will not count on Mayweather's boxing record – that will stand at 50-0 whatever happens on the night – but might Nasukawa really come out all guns (and feet) blazing in an effort to rough Floyd up and beat him? How would Mayweather's enormous ego respond if this happened?
If Nasukawa really is ready to fight and fight as hard as he can, and if he cares not one bit about the legal consequences Floyd's team would certainly try and hit him with if he did hurt Mayweather, we could have a bout worth watching on New Year's Eve. Many will no doubt say, 'no way, Floyd is too smart for that.' But he will be way out of his Las Vegas comfort zone and maybe Mayweather is indeed taking one of the biggest risks of his entire fighting career.
Don't be surprised though, if Mayweather gets wins of this (or already has) and pulls out of the "fight" a second time.