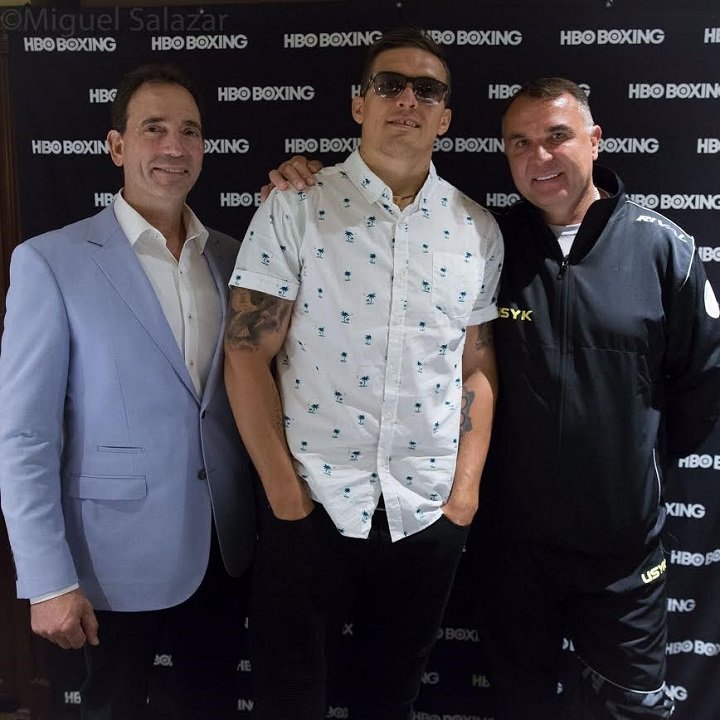 Well, Oleksandr Usyk won't be the April 13th "wildcard" opponent of heavyweight champ Anthony Joshua. Egis Klimas, speaking with Dan Rafael of ESPN.com, said his fighter may not even fight again until next May, and that it's not yet certain if Usyk will go to heavyweight that soon. Klimas says that after his busy year – three fights, three big wins – Usyk will have a good, well deserved rest and will then assess his options.
Kilmas says the move up to heavyweight will absolutely happen but that the unified cruiserweight king will not target Joshua straight away, that he "will look to see who is available" at heavyweight and likely have two fights there before going for the ultimate. Klimas also spoke of the possibility of the retired Andre Ward coming out of retirement to challenge Usyk. A number of people have wondered if this fight could happen, with Ward being lured back by the chance to win all four belts at 200 pounds. Can Ward resist the temptation?
Klimas says he thinks Usyk-Ward would be a good fight – "he did well against [Sergey] Kovalev]," he said to ESPN.com.
Ward, 32-0(16) did surprise some people when he announced he was all done at age 33 and some of these same people remain convinced Ward, still only 34 (35 in February of next year) will fight again at least once. Maybe the natural competitor in Ward will see to it that he returns to tackle current pound-for-pounder Usyk. Fans would certainly be interested to see this fight if it did get made.
Or maybe Ward, who not too long ago tweeted how he was bulking up to around the 200 pound mark, has other ideas. Might Ward be one of the two "wildcard" opponents for AJ that Hearn has alluded to? Stranger things have indeed happened and Ward, never far from a gym, has kept himself in good physical shape and condition.
Fans will be watching closely to see what Usyk, and Ward, do next.