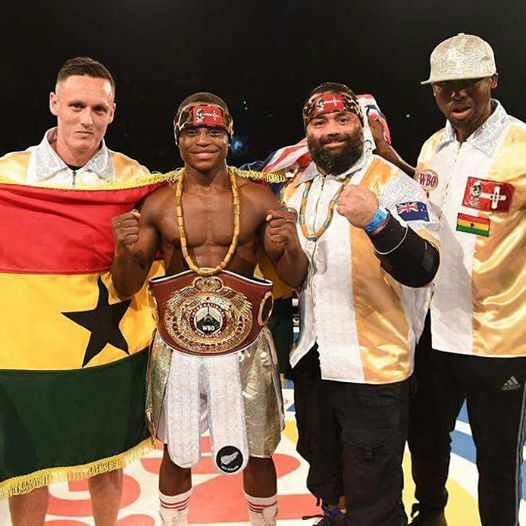 Paul Dogboe, father and trainer of undefeated Ghanaian boxer, Isaac 'Royal Storm' Dogboe has expressed his apologies to Carl Lokko, coach of world title challenger, Richard Oblitey Commey over comments he made regarding Commey's two losses in 2016.
Speaking at the Kotoka International Airport on arrival in Ghana on December 29, Dogboe Snr lamented on why Commey who he rates as a boxer with all the qualities needed to become world champion failed in his bid for the IBF world title versus Robert Easter Jnr and against Denis Shafikov in Russia three months later and called for Commey to change his technical team if he wants to be champion.
They were comments that were not taken kindly by Team Commey whose UK based management, Streetwise Promotions headed by Michael Amoo-Bediako released a press statement on Tuesday condemning Dogboe's comments and reposing a massive dose of confidence in Coach Lokko.
Paul Dogboe has however replied again, saying he had no bad intentions and only meant to help the boxer and Ghana boxing in general and is sorry if it was construed wrongly.
"Yes I said it but it wasn't personal, it was a question that was asked about Richie Commey, I don't even remember the question but I remember saying something about his technical deficiencies but trust me it wasn't something personal," Dogboe has explained to the Ghanaian Times newspaper.
"Amoo-Bediako is my good friend, Carl Lokko is also a good friend, we are like family so it's not really personal. This is good for Ghana boxing, I know I was supposed to call them or go to his house, you know I know his house, I know his family. Maybe it's harsh because I said it on the news but it's not something I wanted to say but when you are asked a question all of a sudden," Dogboe Snr said.
Coach Dogboe added: "I'm sorry to do that but it helps boxing in a way because I may say being criticized by own people, I wouldn't take it too personal. Maybe I may react the same way they are doing that why didn't you call me, it's true I am supposed to call them.
"But like I said it's good for boxing, at least they know I said something and they will go and think about it. We are not in any competition with them, Carl Lokko is a great coach, Amoo-Bediako is a great manager and they are people that I can even leave my son with so I am sorry that they took it that way but it's nothing personal."