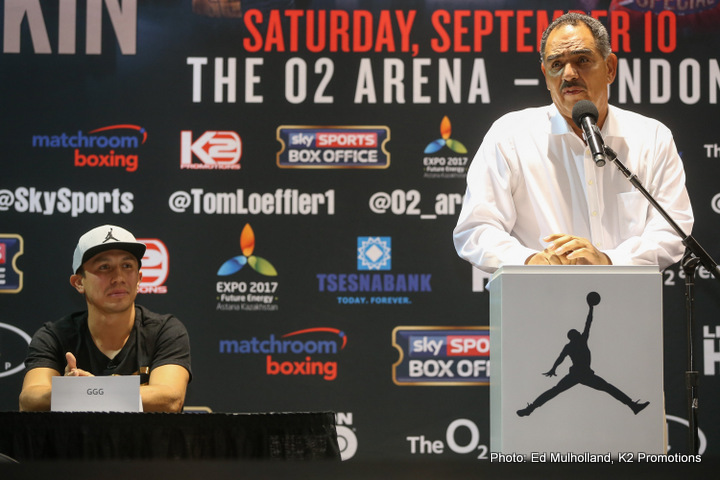 While his critics – Carl Froch and Floyd Mayweather among them – argue how he should "prove himself" by taking a move up in weight, middleweight king Gennady Golovkin is sticking around at 160 for the time being. And, according to his trainer Abel Sanchez, not only is there no middleweight on the planet capable of defeating his fighter, there is not even a middleweight capable of lasting the full 12 rounds with Triple-G.
Speaking before the upcoming and anticipated Golovkin-Danny Jacobs fight, Sanchez says he hopes "Miracle Man" Jacobs keeps his word and comes to fight hard. If he does, though, the once-beaten New Yorker will have a second loss on his record, according to Sanchez.
"I'm hoping Danny Jacobs is true to his word and comes to fight," Sanchez said. "Everything about him and the things he has said – indicate we will have a barnburner for as long as it lasts on March 18. I'm afraid it won't be good for him though as nobody at 160 will last the distance with Golovkin."
So far in his 36-0(33) ten year pro career (11 years a pro come May) the farthest Golovkin has been taken is into the 11th-round, this by tough and durable British middleweight Martin Murray back in May of 2015. It really is quite amazing that, in 18 world middleweight title fights, no man has been able to stick around to hear the 12th and final bell against GGG. But will things change against Jacobs? Could it be GGG who fails to stick around?
Right now, a Golovkin KO defeat is almost unthinkable, but in Jacobs, 32-1(29) Golovkin just might be facing the most dangerous, sharpest puncher of his career. Will Jacobs look to pull off the shocker of the year and get GGG out of there quick, or will he try and use his considerable skills to box his way to a decision win? Maybe it will be something in between from Jacobs, and he will both box and slug his way to the final bell.
This seems doubtful though, as a short, exciting and memorable night looks far more probable. But many experts feel Jacobs will test GGG harder than anyone else ever has.