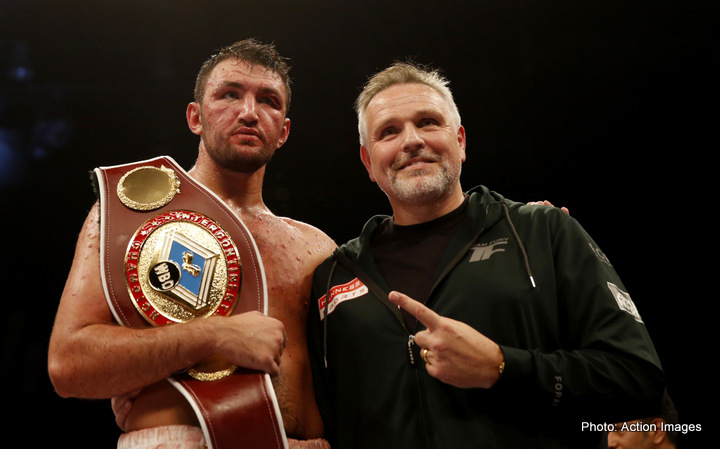 Unbeaten heavyweight contender Hughie Fury has confirmed that he is currently in negotiations with WBO heavyweight champ Joseph Parker and how he fully expects to challenge the New Zealander on Parker's scheduled April 8 defence.
Speaking with Sky Sports, Fury, cousin of course of former heavyweight king Tyson Fury, said he is willing to travel to New Zealand for the fight and that after he beats Parker, he will look to unify the heavyweight titles.
"We're in negotiations with it at the minute," Fury said. "I am mandatory, so it will be happening either way. I'm in the number-one position, I'm mandatory, and I will be fighting for that title. It would be nice to have it at home, but it doesn't really matter to me. I'm not just in this sport to win a world title and that's it, I'm here to win it and prove that I am a worthy champion. This is all I've wanted to do. Once I win that title, I'm coming for them all."
Fury, 20-0(10) says he "rates Parker," yet at the same time he had Andy Ruiz Junior beating him on December 10. "I had Ruiz winning it but Parker came out on top in the end," Fury said. "Congratulations to him, but he won't be keeping that title for long."
If it is Fury next for Parker, will the champion come to the UK to defend or will the fight be staged in New Zealand? Either way, this fight will be the acid test for 22-year-old Fury.
In other heavyweight news, Amir Mansour and Travis Kauffman will clash on the February 25 card headlined by WBC champ Deontay Wilder defending against Andrzej Wawrzyk. The Birmingham, Alabama show now boasts three heavyweight match-ups, with Dominic Breazeale-Artur Szpilka also set to feature. Mansour, last seen losing to Breazeale – in a slugfest that took place in January and saw the 44-year-old southpaw suffer a nasty and gruesome mouth injury – needs to beat Kauffman if he's to keep his career alive.
Kauffman, 31-1(23) last fought in September, when he stopped Josh Gormley, but before that, the 31-year-old went 12 hard rounds with Chris Arreola – losing a close decision that was later changed to a No Decision due to Arreola testing positive for marijuana. Kauffman and Mansour have been exchanging words on social media and this apparent grudge match could provide some exciting action.
Like the Breazeale-Szpilka fight, this match-up is solid (certainly as an under-card bout) as well as being a pretty tough one to pick. The younger man can be seen as the slight favourite but Mansour is a powerful and aggressive heavyweight who is always dangerous. The Wilder-Wawrzyk fight is no great test for the WBC champ (on paper at least) but fans may be inclined to buy the card due to the ever-growing under-card.