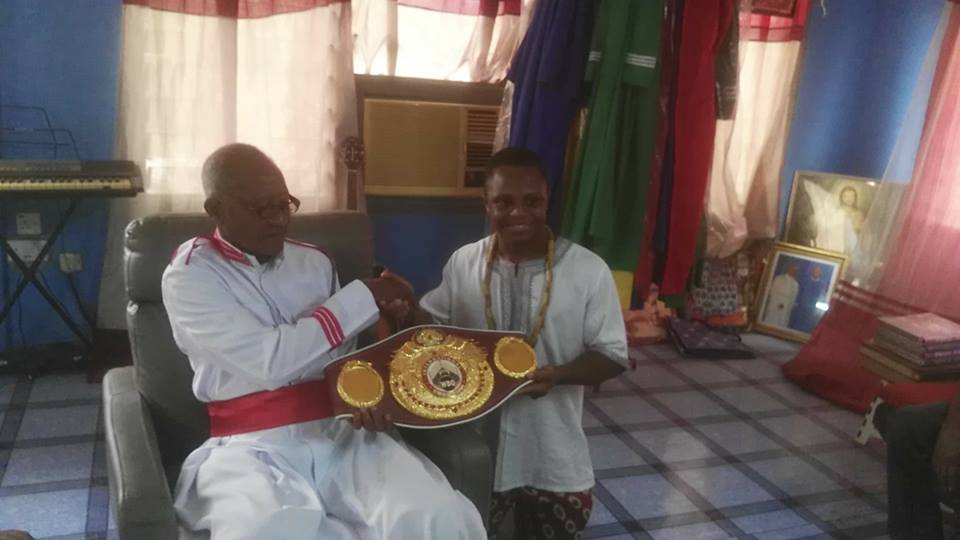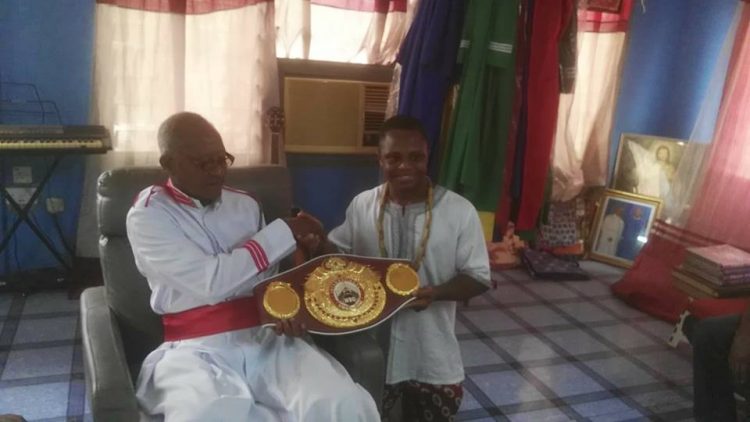 Newly crowned WBO International super bantamweight champion, Isaac 'Royal Storm' Dogboe wasted no time at all on arrival back in Ghana to give thanks to his God for the latest triumph in the ring.
The highly religious boxer on Thursday returned to the country for the first time since annexing the belt with a round 7 stoppage of Julian Evaristo Aristule in New Zealand on December 10 and drove straight from the Kotoka International Airport in Accra to Tadzewu in the Volta Region to join the Apostle Revelations Society (ARS)'s annual end of year national convention's 77th anniversary.
At the church ceremony on Friday morning, the 22 year old undefeated boxer presented the new title to the congregation after which he received more prayers and blessings from Nyeenyami etsey Wovenu, High Priest and Leader/Chairman of the ARS governing body
"It's the right thing to present the title to almighty God, we were there for prayers before we went to fight and now that we've won we have to go back there and present the title to God to show our appreciation," dad and coach of the boxer, Paul Dogboe explained.
"So that's what Isaac did by raising the title before the congregation, it's a sign that God has won again. Isaac is not the champion, the champion is the almighty God so we have to give him that glory, to give him that honour," he added.
Dogboe Snr elaborated further on the role and significance of God in his son's career and life.
"We come from a family where we believe in Christ Jesus, it's been like that from my grandfather's generation, my father's generation, my generation and I have to pass it on to my kids," Paul Dogboe said
"God is the key, God is our secret, God the creator of the universe, God the omnipotent, he is the beginning of Isaac's career and he is the one we always consult before anything. That is why anytime Isaac wins we have to give praise and honour to God, it's very important," he continued.
"Can't you see the way his life has been, he hasn't started boxing for too long but he has achieved a lot, went to the Olympics at age 17, 22 years has won 16 straight fights, WBO international title, number one in Africa.
It's all the glory of God at work," Coach Dogboe concluded.