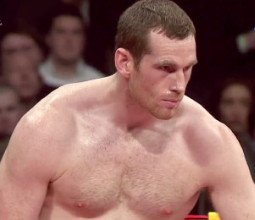 Tonight, David Price (15-1, 13 KO's) will be making his first appearance since being knocked out in the 2nd round by Tony Thompson last February. While a lot of fans commend the 29-year-old Price for having the guts to look for an immediate rematch with Thompson, there are huge question marks about how Price will look in this fight.
You have to remember that before Price lost to Thompson earlier this year, Price had been rolling over his opponents one after another and he'd been filled with confidence. You could see it before his fights in the way he acted during the press conferences and in the weigh-ins against his overmatched opposition.
For the rematch against Thompson, Price has looked nothing like a confident fighter. If anything, I'd say that Price looks anxious but in a bad way. He doesn't have the confident look that he had before when his promoter was matching him up against domestic level and old fighters past their prime by many, many years.
Price was trained by Lennox Lewis for this fight, but I don't know that Lewis is another Emanuel Steward and that's who I think Price would need for him to be in a good position to win this fight without any doubts. Steward rebuilt Wladimir Klitschko and Lewis and made them superb fighters. I don't know that having Lewis in his camp for 5 weeks is going to be able to do the same thing for Price.
Price and his promoter Frank Maloney think the defeat to Thompson was a fluke thing, but if they're wrong. Was it a fluke thing that Price was stopped by Roberto Cammarelle in the Olympics? I don't think it was.
I think the better man won that fight. Price's chin couldn't hold up to the big shots from Cammarelle and he quickly caved in and was stopped. The main thing Price had going for him since he turned pro was his size, strength and confidence.
Without his confidence, Price will only have the power advantage over Thompson and that may not be enough. The two are about equal size, and Price isn't going to be able to bomb Thompson from a mile away without getting hit himself.