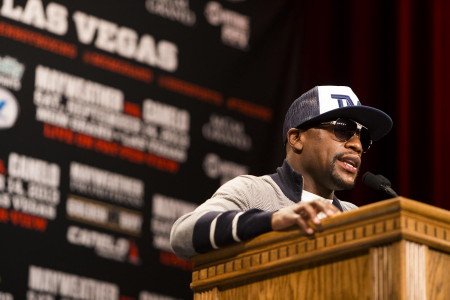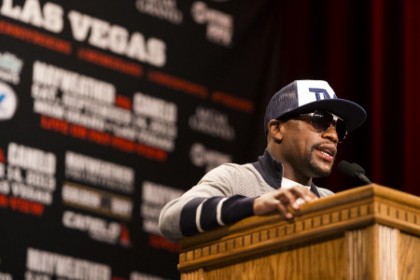 (Photo credit: Esther Lin/Showtime) Floyd Mayweather Jr. (44-0, 26 KO's) has been holding back on his thoughts about his September 14th opponent WBA/WBC junior middleweight champion Saul "Canelo" Alvarez (42-0-1, 30 KO's), but Mayweather has taken the gloves off after the trash talking that started in Los Angeles in their last city of their press tour. Mayweather says he thinks Miguel Cotto is a superior fighter than the 22-year-old Canelo.
Mayweather said to ESPN "I think Miguel Cotto was a stronger fighter, he was a tougher fighter, and I think a better fighter."
Mayweather could be right. We don't know how good Canelo is at this point because he's mainly been fighting welterweights while fighting in the junior middleweight division. The only real 154 pounder that Canelo fought with any kind of talent was Austin Trout, and he fought Canelo to a standstill last April in a fight that you could either score a draw or a victory for Trout.
I personally thought it was an easy win for Trout, but Canelo's fans think he won. In a lot of cases who you felt won the fight comes down to which fighter you're a fan of. I'm not a fan of either fighter, and I had Trout winning.
Cotto definitely has the better jab and the superior stamina compared to Canelo. Cotto can fight hard for 8-10 rounds before he gasses out. Canelo is more of a 4-round fighter in terms of stamina and he starts to show his fatigue once the fight goes past the 4th round. The advantage that Canelo has over Cotto is in the weight department.
Canelo is more like a middleweight; whereas Cotto is kind of a pumped up welterweight who grew out of the division. Cotto is still more like a welterweight with really good power.
Cotto cuts off the ring better than Canelo, and he was able to give Mayweather problems by cutting off his avenues of retreat and nailing him with jabs. Canelo doesn't have the quick feet that Cotto has, and he doesn't have his excellent jab.