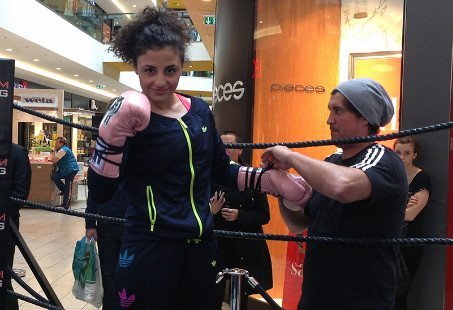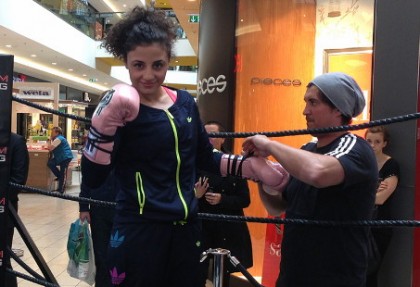 (Photo credit: Sturm Box Promotions) Susi Kentikian (30-2, 16 KO's) will be attempting to recapture her WBA Female flyweight title tonight against champion Carina Moreno (23-5, 6 KO's) in a scheduled 10 round bout at the Westfalenhalle, Dortmund, Nordrhein-Westfalen, Germany. The 25-year-old Kentikian lost her WBA title to Moreno in losing by a close 10 round split decision last year in December in Germany.
For Kentikian is was her second straight defeat at the time after having been beaten by a close 10 round majority decision in May of last year by Mellisa McMorrow.
Before those two defeats, Kentikian had always had her close fights in her favor with the judges giving her a number of victories that some boxing fans felt that she should have lost. The defeats to McMorrow and Moreno reversed that trend with Kentikian on the receiving end of a close decision.
Kentikian is going to have to fight a lot better than she did against Moreno last time out, because she showed little in the way of form in that fight. Kentikian constantly waded forward throwing windmill shots seemingly without aim and getting hit repeatedly by Moreno's more precise punches.
Moreno came into the fight having lost four out of her last five fights with some of the defeats being one-sided losses against the likes of Yesica Bopp and Sindy Amador. The fact that Moreno was able to dominate and beat Kentikian seems to suggest that the competition has caught up with the 5'1" Kentikian and she may have additional problems in the future beyond the Moreno fight tonight.
Kentikian rebounded from her defeat at the hands of Moreno to defeat the inexperienced Sanae Jah by a lopsided 10 round unanimous decision last February in Germany. However, Jah is nothing like Moreno, and Kentikian is going to have problems tonight if she hasn't worked on her offense and especially her defense.
Earlier in her career, Kentikian was able to get away with coming out fast and throwing wild shots at her opponents to score a lot of knockouts. But the Female flyweight division has improved a lot, and it takes more than just wild punches to win fights now.