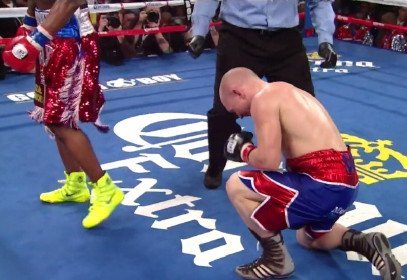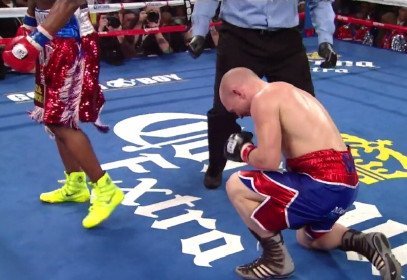 Promoter Eddie Hearn is interested in matching his very lucky fighter WBO lightweight champion Ricky Burns (36-2, 11 KO's) against former lightweight contender Gavin Rees (37-2-1, 18 KO's) this coming September. Rees is coming off of a 5th round knockout loss to WBC lightweight champion Adrien Broner last February in a fight where Rees looked terrible in before getting knocked out.
Burns got lucky last Saturday night in beating Jose Gonzalez (22-1, 17 KO's) in a 9th round stoppage when Gonzalez quit on his stool after the 9th round. Gonzalez said after the fight he didn't know that he had such a wide lead and that if he knew that he wouldn't have quit.
Hearn thought the fight was pretty close even in the first six rounds, saying to I Film London "After six rounds I had him [Burns] down two."
I think Hearn might need to watch the fight again because there's no way Burns won any of the first six or even the first seven rounds. Burns was getting totally dominated by Gonzalez in the first seven and I don't know how you could give him even one because he wasn't landing anything was getting jabbed silly.
After the way Burns looked against Gonzalez, I think it would make Burns look bad to take his career backwards to face someone like Rees. That's a bad move because it's too much of a title milking move on Burns' part and he's already had too many soft fights in his career.
It would be much better for Hearn to be courageous with his fighter and put him in with IBF lightweight champion Miguel Vazquez or WBA lightweight champion Richard Abril. Both of those fighters want to face Burns and I think it would be a good test for Burns to see if he's still a true world class fighter because he looks like he's really slipping as a fighter in a big way at this point.
I can't blame Hearn for wanting to keep Burns protected so that he can get the most out of what little time he has left in his title reign. In that case, maybe Gavin Rees would be perfect for Burns.
Hearn should be thinking about a cash out fight for Burns because he needs to get him in at least big payday bout before he gets taken out, and I don't think Burns is going to beat his next mandatory challenger Sergio Thompson. That guy will knock Burns out cold when that fight gets made and Hearn can't avoid having Burns fight him because he's going to be the next mandatory for Burns.