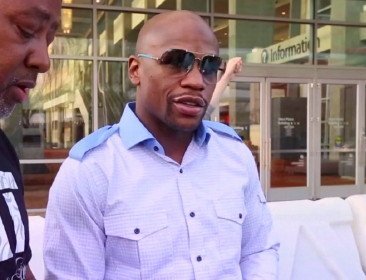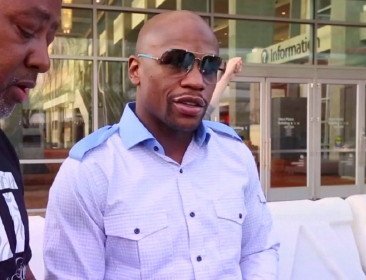 Floyd Mayweather Jr's team reportedly gave WBA/WBC junior middleweight champion Saul "Canelo" Alvarez the option to fight him at 147 lbs. on September 14th if he wants to get the biggest payday of his career. Canelo is only 22-year-old and has no pay per view history behind him to show that he's a proven money maker.
Canelo's not shown yet that he's someone that can make money, and therefore he's not position to dictate what weight the fight will take place on. Some of Canelo's fans think Mayweather is ducking the fight with him by asking him to come down to 147 instead of accommodating the 22-year-old by moving up to 154, so that Canelo can make weight and rehydrate to 170+ the night of the fight and enjoy a 20-25 pound weight advantage over Mayweather. When it gets down to it, Canelo's only chance of beating Mayweather is to use his light heavyweight-sized weight to crush him.
I don't know that I agree with Canelo's fans in thinking that Mayweather is ducking the fight by asking Canelo to come down to 147. Look at the reality of this. Mayweather has only fought twice at junior middleweight during his career in bouts against Oscar De La Hoya and Miguel Cotto, and he's struggled both times he did that.
Mayweather typically rehydrates to 150 after making weight at 147. So what we're talking about here is a fighter that really is a lightweight fighting at welterweight. That's what Mayweather really is because there are lightweights that rehydrate to the 140s. Look at Ricky Burns and Adrien Broner. Those are both welterweight sized lightweights, who are able to drain down to fight in the lightweight division.
Canelo, though, is more of a super middleweight, who drains down to fight at junior middleweight [154]. When Canelo rehydrates, he shoots up to the 170s. So we're talking about a fighter that is essentially five weight classes bigger than Mayweather, who like I said, is really a lightweight fighting at welterweight. Canelo is more of a super middleweight/light heavyweight fighting at junior middleweight in fights against welterweights.
If you can't see what Canelo is doing with his fights than you need to open your eyes because it's kind of the same thing that former WBC middleweight champion Julio Cesar Chavez Jr. has been doing a long time now by fighting lighter guys at 160 with him rehydrating up to the 180s and 190s.
I don't think for a second that Mayweather is ducking Canelo. He's just making sure that's not going to be in the ring with a light heavyweight on September 14th because that's not exactly a fair fight, is it? Canelo doesn't fight cruiserweights, so why should Mayweather fight a light heavyweight?