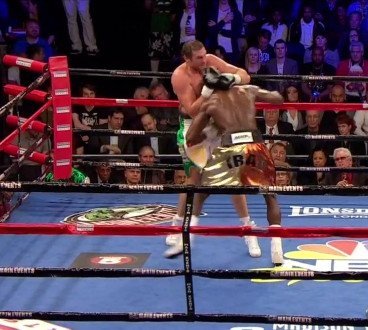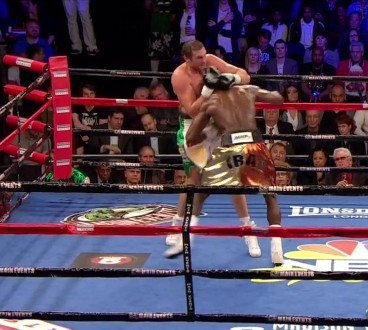 David Haye and Tyson Fury will now meet on February 8th of next year, various media reports have confirmed. The fight, postponed due to Haye suffering a cut eye in sparring, will still take place at The Phones 4U Arena in Manchester.
Haye is delighted with the news:
"I was absolutely devastated this weekend, and felt as though I'd let a lot of people down. But now, with this new date, I couldn't be happier," Haye said. "My fans will still get the chance to see what they all wanted to see this weekend – they'll get to see Tyson Fury sparked out in spectacular fashion. Fury might start to get brave now that he's received a stay of execution – and he might call me names and accuse me of ducking him – but that will all be short-lived, I can promise you.
"The cut will heal, the fight will happen next year and the fans will go home happy. The only difference now is that Tyson Fury gets an even nastier beat-down than he would have received first time round."
However, despite this news, Team-Fury remain skeptical of Haye. Peter Fury, Tyson's uncle and trainer, has gone as far as to suggest Haye may be looking at taking a fight with Alexander Povetkin if Povetkin pulls off a massive upset and defeats Wladimir Klitschko on October 5th.
Speaking with top U.K boxing writer Jeff Powell of The Daily Mail, Fury said the following:
"We are accepting February 8 but we're not convinced they won't cry off again," Peter said to Powell. "If Povetkin does get the upset [over Wladimir] then we won't be holding our breath about our fight happening on February 8th. We know how they [Team-Haye] operate because they came to talk to us while they were preparing for a fight with Manuel Charr, and then pulled out of that one claiming Haye had damaged his hand.
"There was more money for them to fight us on Sky. But if they can get Povetkin that will be even bigger money, plus there would be the world title on the line against a smaller opponent who they know will be easier to beat than Tyson."
Peter Fury added how Tyson will look to stay sharp with a fight against a "decent boxer" in late October or early November.
According to the Powell piece, Adam Booth, Haye's trainer/manager, may have already met with Povetkin advisors, with a view to securing a first crack at the unbeaten Russian if he shocks Klitschko on October 5th in Moscow.
Interesting stuff indeed.
Do you think Haye-Fury will actually happen next February? Or is Peter Fury wise to have his doubts? Also of interest will be just who Fury opts to face in October or November. Tyson says he wants the big names – and, as confirmed by Mick Hennessey, Tyson asked if he could save this Saturday's show in Manchester by fighting Deontay Wilder instead of the injured Haye, with Sky saying no to the idea – so we could get another intriguing bout before the year is out.
Haye of course is adamant he WILL get it on with Fury on February 8th and that he will score a KO win. All of a sudden, this all-British grudge-match is even more intriguing!