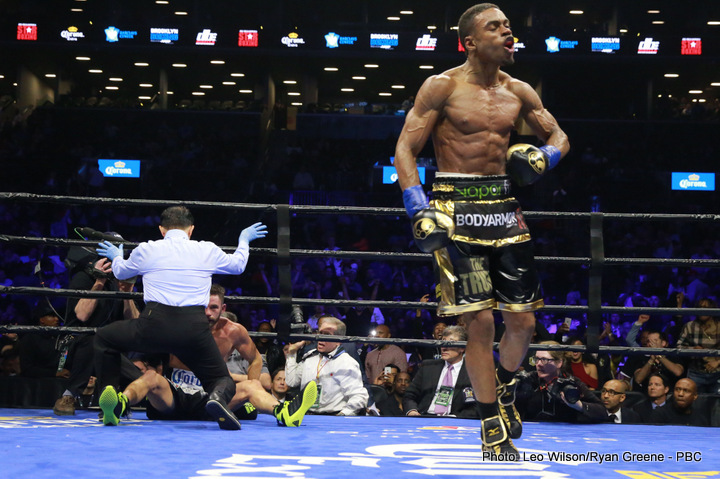 Undefeated rising welterweight star Errol "The Truth" Spence Jr. (20-0, 17 KOs) went emphatically from prospect to contender with a fifth-round stoppage of former world champion Chris Algieri (21-3, 8 KOs) on Premier Boxing Champions (PBC) on NBC Saturday night from Barclays Center in Brooklyn.
"It meant a lot to get the stoppage," said Spence Jr. "I did something Manny Pacquiao and Amir Khan couldn't do. That shows where I'm at in the welterweight division."
Spence Jr. was superior in every regard as he took control of the fight from the beginning with world-class bodywork and blazing speed. Algieri was expected to be a major step-up for the 2012 U.S. Olympian, but was unable to bother his opponent despite landing 31 percent of his punches to Spence Jr.'s 30 percent per CompuBox stats.
"I can't take anything away from this young hungry lion," said Algieri. "He did a great job. I trained really hard for this fight. I hope that people appreciate me and how hard I worked and what I brought to the fight."
"The Truth" dominated by landing 41 percent of his power punches over the five rounds and only lost one round on the three judges' scorecards. Spence Jr. sent Algieri down for the first time in the fourth round with a combination finished off by a straight left hand.
Algieri survived the round, but Spence Jr. was determined to get a stoppage and he connected with another straight left that put Algieri on the canvas early in round five.
"It was pretty one-sided, I felt," said Spence Jr. "I started slowly. He said he was going to take me to deep waters so I wanted to pace myself."
"I just wasn't sticking to the style and the strategy like I should have," said Algieri. "We had a couple of different styles that we were going to show him and I never stayed in one style long enough to be effective."
Spence Jr. saw his opportunity and launched a vicious attack in an attempt to end the fight. A massive left hook connected clean with Algieri's jaw and put him on the canvas for the third and final time, as referee Benjy Esteves waved off the bout at :48 seconds into the fifth round.
"Everyone wanted to see what I could do against a proven fighter and I blew him out of the water," added Spence Jr.
The televised swing bout saw 2012 U.S. Olympian "Sir" Marcus Browne (18-0, 13 KOs) remained undefeated with a narrow split-decision victory over previously unbeaten Radivoje "Hot Rod" Kalajdzic (21-1, 14 KOs) in an eight-round light heavyweight contest.
"Establishing my jab was the key," said Browne. "Once I did that, he couldn't get past it. He got me with a couple of good shots."
Kalajdzic was emphatic that the judges were wrong in their decision.
"I don't see how I lost," said Kalajdzic. "I was the aggressor. I showed my heart. If he feels like he beat me, give me the rematch."
The southpaw Browne was able to jab his way into control of the fight by landing 52 jabs to the 54 thrown by Kalajdzic the whole fight. Browne was able to bruise and eventually open up a cut over Kalajdzic's left eye late in the fight.
In the first round, Browne was credited with a controversial knockdown as it appeared via replay that a slip had occurred and Browne had hit Kaladjzic after he was down.
Kalajdzic was effective with his power punches throughout the fight as he landed 36 percent of his power punches to 29 percent from Browne. His most effective moment came in round six when he sent Browne to the mat with a right hand.
"He caught me with something that grazed me," said Browne. "I didn't even know what it was. I walked into the punch but I was able to get up from it and get back in rhythm."
"He didn't do anything that bothered me," said Kalajdzic. "I was doing my thing. I should have listened to my coaches more and I would have stopped him."
Browne was able to recover for the final two rounds and earn the split-decision by scores of 76-74 for Kalajdzic, 76-74 for Browne and 76-75 again for the still unbeaten Staten Island-native.
"I love fighting in front of my fans and family. We gutted this one out and it's on to the next one," added Browne.
PBC on NBC was promoted by DiBella Entertainment in association with Star Boxing.
Barclays Center's BROOKLYN BOXING™ programming platform was