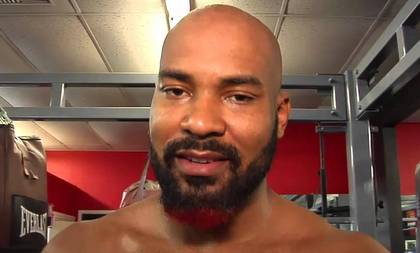 Gerald Washington (15-0-0 11KO) spoke to FightHype recently and in the interview talked in depth about the heavyweight division today and what he sees happening. Washington is coming off of a first round stoppage of Mike Sheppard and is moving into this year looking for some breakout performances. He said that his goal was the world title and is looking to build his record to the point where that he is ready to challenge for it.
In the interview he discussed Wilders performance against Stiverne and seemed to be impressed by the performance. Wilder proved some doubters wrong in that fight, displaying good conditioning, heart, a chin, a jab, and most importantly, the ability to box for extended periods rather than just bang.
Washington at 6'6, would make a great opponent for Wilder, even at this stage, but with another year or two to build his experience, confidence and profile this could be a serious threat to whoever holds the titles at that point.
When asked by the interviewer for a prediction time wise as to when he would be at the top of the division, Washington replied by saying 'I am ready to go now.' He admitted he would have to take his time to a certain degree and work on certain things before he makes that mark, but also pointed out Bryant Jennings is going to be going up against the best heavyweight in the world with only 19 professional fights under his belt, so depending on how he is matched, it could be sooner rather than later.
At this stage there are a ton of heavyweights coming out of America, the UK and Europe who are going to be ready to challenge for titles in the coming years. This is good news because what the division doesn't need is the rivalries between Jennings, Wilder, Fury and Klitschko to end and the division to die. What we need is a fresh source of heavyweights entering the title picture to keep it interesting and we can see that happening with guys like Ruiz Jr, Anthony Joshua, Gerald Washington, Lucas Browne, Joseph Parker, Charles Martin and Luis Ortiz.