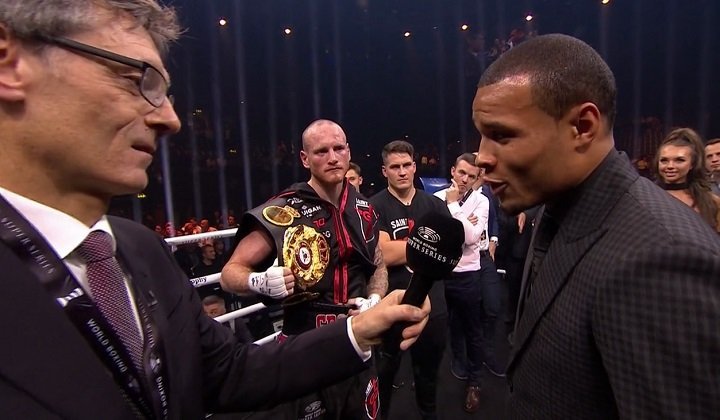 Chris Eubank Junior wore a stern face as he watched his rival George Groves drill Jamie Cox with one humongous body shot last night at Wembley. The two British super-middleweights are all set to rumble early next year in the next phase of the thoroughly enjoyable World Boxing Super Series tournament.
Groves will also defend the WBA 168 pound title he retained inside four-rounds last night. But Eubank, unbeaten as a super-middleweight (his sole loss coming via decision to Billy Joe Saunders down at 160 pounds) insists he saw nothing last night to concern him or his chances of winning in the fight that is now targeted for January.
Ever boastful and full of confidence, Eubank Jr. told iFLTV how he will "annihilate" Groves when they meet.
"It was a good fight, [Groves] did what he had to do to win, not too many cuts and bruises so it looks like were on for January," Eubank said. "Now we've got the Super Fight for the fans. That's what we wanted. A knockout is polite with what's going to happen to George Groves. He's going to get annihilated."
Groves though, punching perhaps harder than ever before (scoring two impressive stoppages in his last two outings) is the pick to win in the opinion of a good number of fans; perhaps around 50-percent of them, as this upcoming potential classic really is a pick 'em fight. Groves did not watch Eubank's own KO win last week, against Avni Yildrim, nor has he watched it since, but he says he has seen enough of his rival to know he will beat him.
"[Eubank] hasn't boxed anyone at my level," Groves told iFLTV. "He hasn't boxed anyone who's going to come in and give a great account of himself. I didn't see the Yildrim fight last week . There have been a couple of sparring stories about Yildrim but other than that …..the footage I've seen of him online, not that great. On paper it was an impressive win but, like I say, he ain't even boxed anyone like me and he's going to have to make a big step up and [make] some big adjustments."
Again, it's a great fight, a great clash of styles and personalities, and fans of both fighters are making serious arguments over who wins. Groves though, has certainly fought the better opposition.
"If I box like I did [against Cox], he doesn't stand a chance," Groves told BBC Sport.
This one could be just three months or so away.