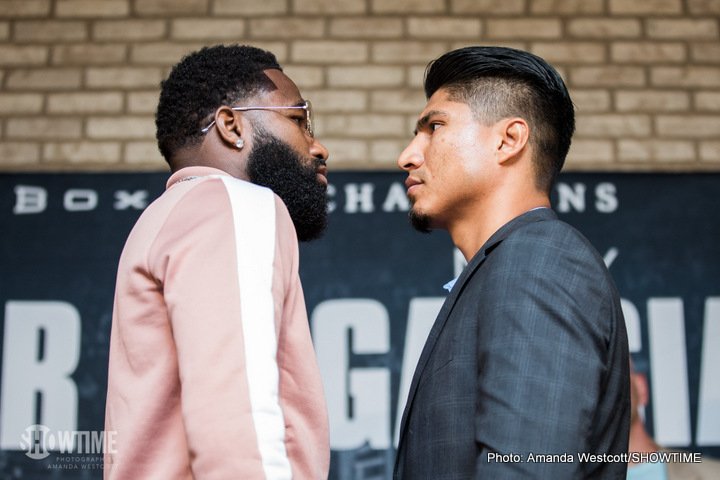 Adrien Broner insists he is more serious and more focused than at any other time in his entire career; and he had better be telling the truth. This Saturday's must-win fight (must-win for both men) against Mikey Garcia sees Broner enter the ring as big an underdog as he has ever been. Can "The Problem" rise above the odds?
Broner knows he's not the fan favourite to win but he says he will be "100-percent" and that he wanted this, a tough fight. To his credit, Broner, a multi-weight champ, has never been stopped in his career, where he has suffered two defeats – to Marcos Maidana, who for many people "exposed" Broner and burst his bubble, and to Shawn Porter. But will Broner get stopped by Garcia on Saturday? Could he even get knocked out cold? Is this the fight that ends Broner's time as an elite fighter?
Garcia, unbeaten, is sure he will get the victory.
"Broner has lost. I don't lose. I don't believe anyone around my division can beat me and I believe I'm the better fighter," Garcia said a while back, as quoted by ESPN.com. While more recently, Garcia admitted that he sees Broner as the toughest fight of his career.
The fans seem to feel Garcia, 36-0(30) is better than Broner. Now the reigning WBC lightweight champ has to prove it. Coming off that impressive and brutal KO over Dejan Zlaticanin in January (this fight being Garcia's second following a 2-and-a-half year layoff), Garcia's stock is soaring. Broner in comparison struggled to a decision with the tough and capable Adrian Granados in February, with a number of people feeling Granados was deserving of the decision that went Broner's way.
Weight could well prove to be a big factor in this fight. Will Broner, who has boxed as a welterweight and even struggled to make the limit there, get down to the agreed 140 pounds (a hefty fine is reportedly in place – for either fighter – should he fail to make 140; with a fine to the tune of a staggering $500,000 in place for Broner should he come in over) without weakening himself? As for Garcia, who has won titles at featherweight, super-feather and lightweight and is now going up to his fourth weight class, will he be as strong and as powerful up at 140?
It really is an intriguing fight, one that has fans talking and talking. Broner, 33-2(24) once showed great talent and even greater promise. Garcia is seemingly on top of his game right now. Has Broner honestly and truly knuckled down to serious training and will he, in this fight show everything he has skill-wise, heart-wise and determination-wise; or will Garcia continue his seeming march to greatness?
Garcia, the older man by two years at age 29, has to be the pick to win, but can he become the first man to KO Broner? If so, or even if Garcia beats Broner clearly by decision, will "The Problem" see his time as a top level fighter vanish forever?