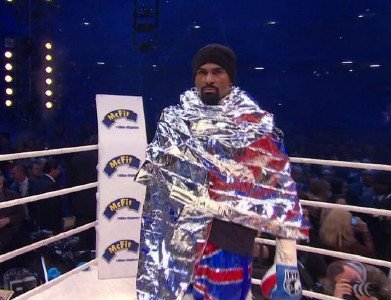 Former WBA heavyweight champion, David Haye, has predicted that Tyson Fury's chances of dethroning Wladimir Klitschko on Saturday night are 1/20 at best, and that the gulf in class will be painfully apparent after the first bell sounds in Dusseldorf's Esprit Arena.
Haye – who famously lost a wide points decision to Klitschko in 2011, and twice pulled out of fighting Fury, citing injury – is set for a ring return in January after 3 1/2 years out of action, and claims to be targeting the top once again under new trainer, Shane McGuigan, meaning an eventual fight with Fury could be on the cards should the Mancunian pull off the win on Saturday.
"Is he going to beat Wladimir Klitschko, who is a consummate professional inside and outside the ring? I don't really give him a shot. I only give Fury a 1 in 20 shot," Haye said.
"He has never beaten anyone world class. Dereck Chisora is the best person he's beaten. You look at Klitschko and it is a whole different story.
"This is Tyson Fury's first introduction to world heavyweight boxing. To have your first introductory fight against Klitschko means it is going to be a very hard night's work for him.
"To go from fighting the Chisora's of this world, to go in with a strong, healthy dominant world champion, will be a step too far.
"I think the guy is clouded in bad luck. He brings too much negativity."
Haye begins his own assault on the division against Australian, Mark De Mori at London's O2 on January 16th, and hopes that he can work his way back into position for a shot at whoever has the belts, meaning a 2nd Klitschko fights appeals and could be on the radar.
"My aim is to regain the heavyweight championship of the world. Ever since I lost to Wladimir Klitschko I've wanted to do it again and I believe I can take his power.
"I'm 35 and he's nearly 40 and I feel I'm fresh because I've not been punched in the head for the last three and a half years. When I hit him [Klitschko] on the chops I saw his eyes roll in his head.
"The only way Tyson Fury would ever be on my radar is if he ever did become world champion, which he could possibly become if he wins on Saturday night.
"If that's the case then he will be the man to beat – but I very much doubt that will happen, so he is not on my radar.
"Whether it be Wladimir Klitschko, Deontay Wilder or Ruslan Chagaev. I just want that heavyweight strap around my waist. I want to win all of the belts," he added.
Twitter @undilutedpoison