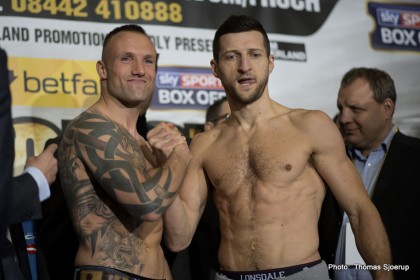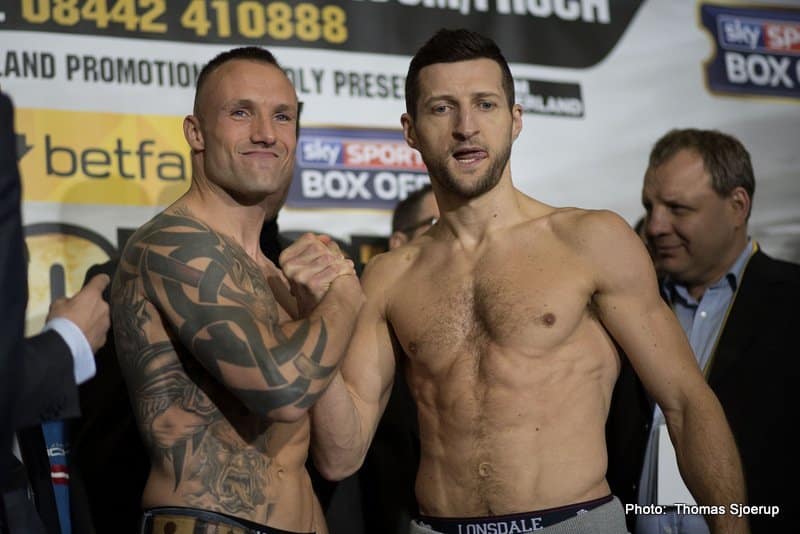 Although few fighters if any can match the quality of opponent that Carl Froch has faced since his introduction to the big time in his 2008 fight with Jean Pascal, make no mistake about it, his legacy is on the line. Not only legacy but a fight with the legend of longevity Bernard Hopkins, is waiting in the wings in what would be a hall of fame sealer for Carl "The Cobra" Froch. There is only one problem. The Viking Warrior is standing in his way and Mikkel Kessler has plenty of skill along with grit to make his "Warrior Call" be heard to the roof tops of the O2 Arena in London. Another week, another 50-50 fight and win-win for boxing fans across the world.
According to the some betting lines Carl Froch ranges from an almost 2-1 favorite, all the way up to an astronomical 4-1 or 5-1 on a betting website in the U.K. Carl Froch has been the more active fighter since their fight in 2010, as well as facing the better opposition. Meanwhile, Mikkel Kessler was forced to take two separate breaks, one over a year and one almost a year, to heal his eye injuries that nearly forced him to retire from the sport. What if anything is different besides location from the first fight and will this fight play out in similar fashion?
Carl Froch has a habit of talking out of both sides of his mouth when it comes to the topic of Andre Ward. From one side he showers Ward with credit, calling him a skilled fighter, a defensive wizard, and the man who influenced him to be more aware of his defensive liabilities. From the other side of his mouth, his tongue slithers out with statements like I had an off night, he bores people to deaf, or if it were in his hometown it would have been a different fight. If Carl Froch wants to right a wrong with Ward or face Hopkins in what would be a super fight, he needs to beat the man who is in front of him. And that man happens to have more all around skills then Carl Froch.
Kessler's layoffs could be the difference in the rematch fight to swing the balance over to Froch. Maybe not from ring rust having already fought twice last year, but concern for the injury coming back to the surface, in this case damage to an eye that could prove to be very costly in this fight. He could get old overnight having fought in 48 fights, that being said he should be to use his jab and activity that controlled their first fight. If he can find his rhythm to counter with the right hand flush, use the same right hand to the body that helped to keep Froch at bay more than he wanted. The one glaring issue he has mention was the habit of getting caught too much with The Cobra's long ranging left hook that would scrap Kessler as he made his way outside of the pocket. Other than that I don't see what else the Dane would or could change about his performance in the first fight.
It does seem like Kessler is sitting down on his punches more in the last two fights, something that will be essential to influence the judges. In the first battle he landed the bigger shots. It could work against him. Leaving him open him to more punches sent in his direction, Froch being the type of fighter who rarely turns down a chance to exchange. Hometown decision or not, Kessler landed the not only the bigger shots, he threw more punches in pairs, and mixed them well to the head and body.
Carl Froch found something later in the first meeting but it was a case of too little too late. Froch doesn't always get the credit he deserves for being a smart and skillful fighter, not one who just throws wide looping bombs trying to end the fight. However, he can at time settle for a lazy slower jab instead of his power jab. Spending too much of his time focusing solely on landing that one big right hand only drops his work rate, and ended up haunting him in his fights with Andre Ward and to a lesser extent Mikkel Kessler. Froch is at his best when he uses that power jab, goes to the body, throws punches in bunches, and keeps them straight as possible. He doesn't have to throw 100 punches a round but does need to keep the pressure on Kessler helping cut the ring off in the process or at least shrink it. Instead he should focus on what he did versus Lucian Bute, which was throwing punches in combination in the form of a left hand jab and right hand down the pipe, or flurries of hooks that kept Bute off balance.
Lunging can be another issue for Froch. Even with a lunge, at least throw more than one punch and make it straight as possible. He may look stiff and robotic but his opponent can't use his legs like Ward or Bute can. Kessler is a stiff fighter as well, standing straight up only moving his head, upper body, or stepping to the side to not get hit with a second punch. Froch should target the chest with that right hand and mix it up to the head straight or a looping. If he has that power jab pumping, he can turn it into a left hook, punch he throws very well. And last but not least, the uppercut that has been very successful and powerful for him in the past.
Carl bounce back from the Kessler loss with two solid wins and bounced back even stronger after his loss to Andre Ward, with a great win over then unbeaten Lucian Bute. Bute, after trouble with Librado Andrade in their first fight, was tearing through the competition like a knife through butter. Some of the butter was not real butter, is what margarine, or it may have already been whipped or and least softened by heat of the Super Six Super Middleweight Tourney. Either way he was a fast, slick fighter in his prime that was very accurate and landing with devastating power. He showed the ability to counter his opponents with shots that had them either dropping dead or turning them into the walking dead in the case of Glen Johnson. In the Bute fight he kept punching and when that didn't work, he stayed as close as possible making it a dog fight. That's what he needs to do with Kessler. Make it real rough all night long on the inside. Instead of getting stopped in his tracks lunging in without throwing the jab or setting up his power shots. If he's going to take one coming in why not give two back something he didn't do consistently enough in their first meeting.
My personal pick will be Kessler by split decision. All this talk from Froch, may be just his normal talk heading in to a fight. Has learned his lesson from past losses and will he change not rely on that one big punch? The way he speaks about the first fight and what he says he plans on doing in front of all those screaming fans in the O2Arena that will be pulling for him this time, I could see him trying too hard to impress the crowd with a knockout victory, walking right into Kessler's jab and counter right hands. Will see if Kessler's time off from the ring and not facing top level talent in his comeback fights, have slowed him just enough for Froch to overwhelm him with punches in bunches.
All and all it should be an entertaining fight. I'm sure both fighters will get there licks in and I expect at least two or three swing rounds. This is a matchup that means so much for each fighter's legacy and the winner's short term plans could be enhanced greatly. If Kessler wins he can claim to be the 2nd best super middleweight in two periods. Calzaghe and Ward will be in the hall of fame, for him to beat a guy like Froch, who's fought a brutal string of fights, twice in a home and home series will place him on a higher pedestal historically. For Carl who get's measured alongside the retired Joe Calzaghe, it allows him to get revenge a from a close loss with Kessler, to set up a trilogy or a matchup in a super fight with the Legend Bernard Hopkins at a catchweight. A fight with Hopkins would allow him the opportunity to beat BHOP in a more clearer way if that's even possible to do with style in which Hopkins fights, then Joe Calzaghe.
Written By Chris Carlson Host and Owner of Rope A Dope Radio
Listen at www.blogtalkradio.com/ropeadoperadio
Follow on Twitter @RopeADopeRadio
YouTube Channel: The Rope A Dope Report At www.youtube.com/user/kg21carlito
http://ropeadoperadio.wordpress.com/