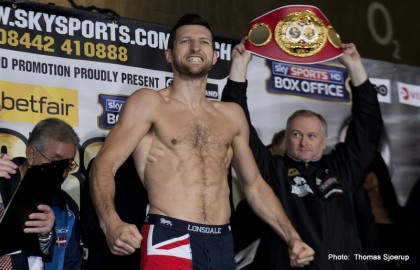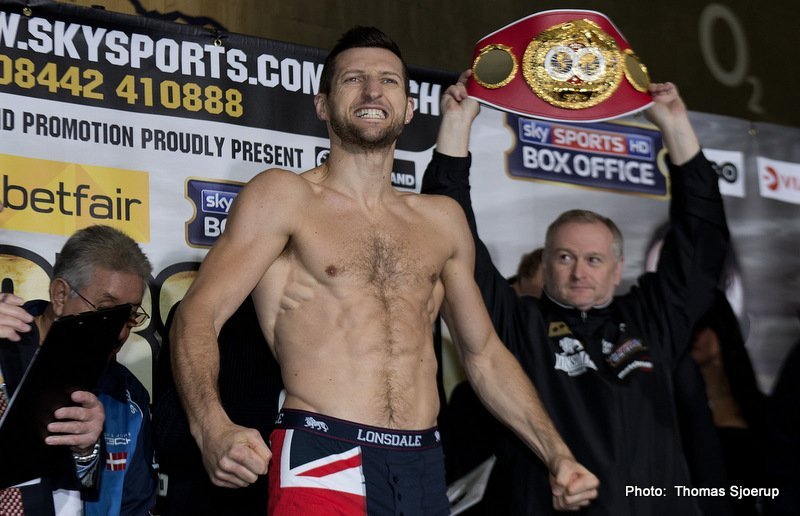 Kalle Sauerland, the promoter for WBA super middleweight champion Mikkel Kessler (46-2, 35 KO's), thinks IBF super middleweight champion Carl Froch (30-2, 22 KO's) is showing the hallmarks of a fighter that is mentally crumbling under the pressure of his big-fight rematch with Kessler this Saturday night in London, England.
Earlier this week, Froch talked of potentially killing Kessler in the ring this Saturday, and Sauerland sees that as a sign that Froch is going to pieces.
Sauerland said this about Froch as quoted by the Dailystar.co.uk "We think this type of talk shows that Carl is cracking up under the pressure. This is the biggest fight that Carl has ever been involved in…he's the favorite and his fans expect him to win, so maybe he's feeling the pressure."
I think it's pretty clear that Froch is showing signs of the stress involved with this fight. All you have to do is take a look at how Froch looked at the final press conference this week and the weigh-in. Froch looked angry and nervous despite there being no trash talk going on between him and Kessler.
This was all self-induced stress on Froch's part, and it was uncomfortable to watch because he was wasting so much energy for nothing. It's not as if it's going to help him on Saturday night. If Froch doesn't have the talent again, he'll get beat just like he was last time by Kessler in 2010.
Froch had blamed the loss on his travel delays to Herning, Denmark, but anyone with two eyes could see that Froch didn't have the talent to win the fight.
This time, Froch has been installed as the betting favorite given his wins over Lucian Bute, Arthur Abraham, Glen Johnson and Yusaf Mack. However, I think Kessler is the better man once again. If Kessler had fought the same guys that Froch beat in the past three years, he'd have beaten them too. We saw Froch lose to Andre Ward, and Kessler was beaten by him too.
To be honest, nothing has changed between these two fighters from three years ago. The only thing I can see that's different is that Froch is much more nervous this time and the fight is being held in London. Being nervous won't help Froch if he mentally crumbles in the fight and I think that's a distinct possibility. I don't think the fight being staged in London will help Froch, unless he's given a controversial decision, but the whole world's watching the fight.
If the judges give Froch another win that he arguably doesn't deserve, the victory will be hollow one just like Froch's win over Andre Dirrell in Nottingham from 2009. If you look at that fight, it's pretty clear that Dirrell should have been given the win and Froch should have lost a lot of points for fouling.