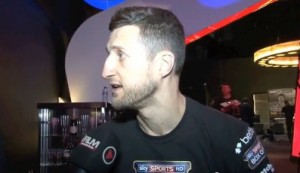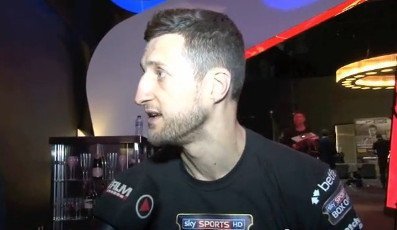 There's a right way and a wrong way to try and hype a fight, and IBF super middleweight champion Carl Froch (30-2, 22 KO's) showed a prime example of the wrong by talking about possibly killing his opponent WBA super middleweight champion Mikkel Kessler (46-2, 35 KO's) in their unification fight this Saturday night in London, UK.
Froch said this to Telegraph.co.uk "If I have to I will kill this f***** [Kessler]. I will kill him. It sounds brutal, it sounds horrible, but that is what it means to me…when I smash his face in, I am going for the kill."
Froch is now being investigated by the British Board of Control over the comments, and there's also talk of the London police looking into this as well.
Froch obviously regrets going that far with his hyping for the fight, and he said this on his twitter: I'm sorry if my comments yesterday offended anyone. This fight means so much to me and my emotions are running high."
It's not about being offended. Froch needs to learn self-control in what he says when trying to build interest in his fights. It's difficult to imagine that he planned this out ahead of time, because who would be foolish enough to talk about physically killing their opponent.
If it was staged, then Froch needs to realize that this fight doesn't need for him to make hyperbolic comments to get fans to want to pay 15 pounds to see the PPV fight between him and Kessler.
Boxing fans already want to see the fight because the winner of the fight will be considered the #2 super middleweight in the division. Then all they need to do is take on the #1 guy Andre Ward and with any luck, they'll be the #1 fighter at 168.
Froch was beaten by Kessler three years ago by a 12 round unanimous decision in Herning, Denmark in 2010, and the loss has really eaten away at Froch for some reason. I'm not sure his loss to Andre Ward hasn't eaten away at him even more because that was even more one-sided.
Froch does have reason to be concerned about the Kessler fight on Saturday, because if he loses the fight his career is going to take a big hit. Froch blamed his 2010 loss to Kessler on his travel delay to Herning, Denmark, but if Froch loses to Kessler for a second time, Froch will have to face the bitter reality that he's simply not good enough to beat Kessler. Any further excuses won't be taken seriously by the boxing public. Hopefully, Froch will just admit that he got beat.