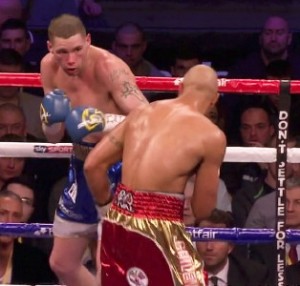 #3 WBC light heavyweight contender Isaac Chilemba (20-1-2, 9 KO's) wants to take the judges out of the equation this Saturday night in his rematch against #1 WBC Tony Bellew (19-1-1, 12 KO's) at the O2 Arena in London, UK.
Chilemba fought well enough to deserve a victory last March when he fought Bellew in Liverpool, England, but the judges saw it differently and scored it a 12 round draw. This time Chilemba will be looking to knock Bellew out.
Chilemba said to Sky Sports "I'm not a guy who looks for a knockout. The way I feel this time, I would be very surprised if he goes 12 rounds…this time I'm going to take every round."
What's not known by many boxing fans is that Chilemba went into his fight with Bellew last March with a chest cold, and he barely breath. He didn't want to cancel the fight and toughed it out, giving away many of the rounds in the first half of the fight. However, in the 2nd half of the fight, Chilemba took over after Bellew stopped coming forward following a few hard punches to the head he took in the 7th. That round pretty much took Bellew out of the fight because he was cautious and reluctant to mix it up with Chilemba after that round.
Bellew promises he's going to go all out this Saturday and look to stop Chilemba as fast as possible. It's unlikely that Bellew will be able to do this because he loads up too much on his shots, and Chilemba is so hard to hit.
If Bellew goes out looking to swing away like a wild man, he's going to end up gassing out or possibly running into something big from Chilemba and getting stopped. The only way to beat Chilemba is to fight smart, box and use a strong jab. Bellew probably won't do that. He'll likely try and overpower Chilemba again and end up getting out-boxed for a second time.
If Chilemba does have better stamina than he did last time, then Bellew is going to be in a world of hurt Saturday night because an improved version of Chilemba will be a nightmare for the British fighter. If Bellew couldn't even beat a sick Chilemba, how can he beat a healthy one.