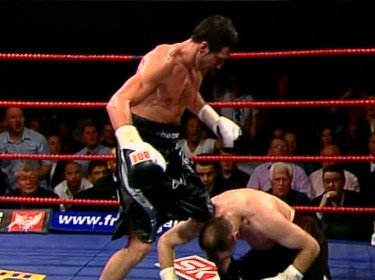 By Michael Collins: A well paying rematch with IBF super middleweight champion Carl Froch is what WBA/WBC super middleweight champion Andre Ward (26-0, 14 KO's) has to look forward to after he takes care of business against former WBC/WBO middleweight champion Kelly Pavlik (40-2, 34 KO's) on January 26th at the Galen Center, in Los Angeles, California, USA.
There's little doubt that Ward will take care of the slow moving, slow punching Pavlik without any problems just as Bernard Hopkins and Sergio Martinez did. Ward wants to fight Froch again to shut him up, and prove that his win over him last December in the Super Six tournament finals wasn't just a fluke thing. Oddly enough, two of the judges scored it a close fight by the scores of 115-113, and this has given Froch the belief that he almost beat Ward.
Froch says he knows how to beat Ward now, and wants to get him over to Europe to face him in his home city of Nottingham. Ward is amused by this, and he hasn't said no to the idea. You have to imagine that Ward will do it if the money is right, because a fight with Froch in an outdoor stadium in front of 50,000 fans is a lot better than fighting in front of a crowd of 10,000 in Oakland, as long as Ward gets a healthy cut of the gate.
Froch has a possible fight against Adonis Stevenson, his IBF super middleweight mandatory challenger, that he may have to get out of the way first before he can fight Ward in a rematch. There's also a rematch with former IBF super middleweight champion Lucian Bute and a rematch with Mikkel Kessler that Froch wants to get out of the way first before fighting Ward.
The thing is the Kessler and Bute fights might not take place when he wants those fights. This could leave Froch with an open schedule to where Ward is the only available option for him unless Froch wants to fight another Yusaf Mack caliber fighter and take heat from the boxing media.