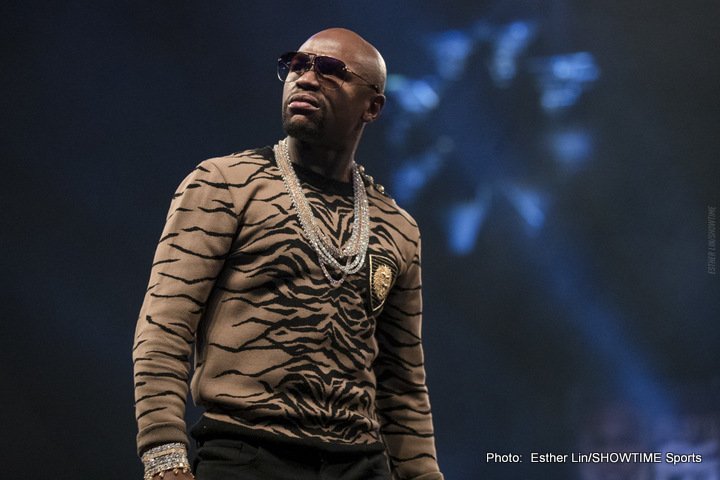 Super featherweight champion Vasyl Lomachenko (10-1, 8 KOs) sent a Tweet on Tuesday to promoter Floyd Mayweather Jr., telling him to stop hiding former IBF 130 lb. champion Gervonta 'Tank' Davis (19-0, 18 KOs). Lomachenko wants to fight Davis if possible in 2018.
Mayweather responded to Lomachenko's message by daring him to step up to 135 and take on WBC lightweight champion Mikey Garcia (37-0, 30 KOs), who wants to fight him. Garcia is confident he'll beat Lomachenko and use the win to become the replacement for Mayweather as biggest star in boxing.
Lomachenko, 29, has a good thing going with him fighting super featherweight. He's dominated since he moved up to that weight class in 2016. Lomachenko recently beat super bantamweight champion Guillermo Rigondeaux (17-1, 11 KOs) by a 6th round stoppage this month on December 9 at Madison Square Garden in New York. However, Rigondeaux had to move up 2 weight classes to fight Lomachenko a super featherweight. The size difference between the two fighters prevented Lomachenko from getting full credit for beating the Cuban 2-time Olympic gold medalist.
"If Lomachenko is what they say he is, I think they should make him and Mikey Garcia," Mayweather said to Fighthype. "I think Lomachenko and Mikey Garcia should lock up. I mean, that's just my honest opinion. Great fighters always move up. We call that legendary. A lot of fighters are taking shots at Tank. At the end of the day, Tank is not perfect, but his boxing record is."
Lomachenko is going to move up to lightweight eventually, but he seems like he wants to stay at super featherweight long enough to try and get the last remaining big names to fight him. WBC champion Miguel Berchelt is an obvious name that Lomachenko's promoters at Top Rank will try and get for him in 2018. Miguel 'Mickey' Roman is another name. You also can't rule out Orlando Salido as a possible opponent for Lomachenko in 2018, even though he was knocked out in the 9h round by Roman this month. Lomachenko wants to get even with Salido for his loss to him in 2014. Salido is 37 now, and he's struggles with making the weight for the division.
Mikey Garcia wants Lomachenko to fight him in 2018, but he states that he doesn't believe that Top Rank promoter Bob Arum fancies the idea of letting him take the fight. Arum is trying to make a star out of Lomachenko. If he loses to Garcia, then his plans will be dashed.
"I know that I have the possibility to be the biggest star in boxing like a Floyd Mayweather, and I think I'm on track to accomplish that," Mikey Garcia said. "I don't see a lot of guys in the sport with the resume of accomplishments that I have. "I'm going to continue take on the best and beat my opponents convincingly."