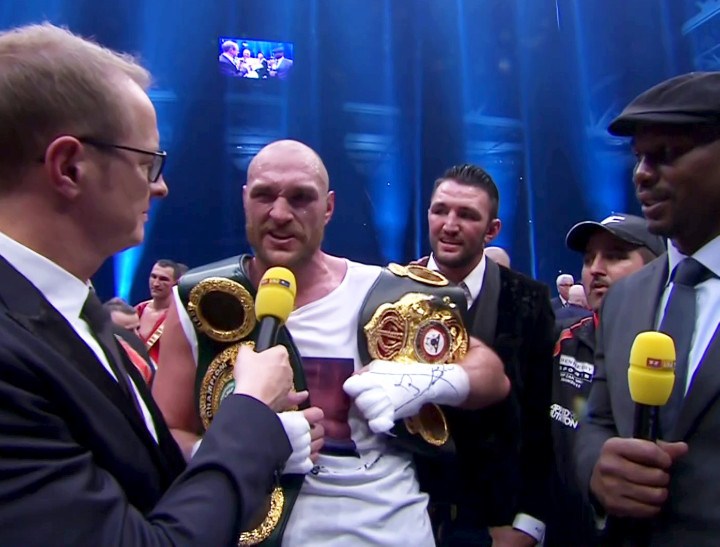 Tyson Fury (25-0, 18 KOs) appears to be willing to accept a 40-60 split for a fight against IBF/WBA heavyweight champion Anthony Joshua (20-0, 20 KOs) when the two of them face each other.
Fury posted on his Twitter account, making the 40 percent offer to Joshua. However, the way that Fury posted the message, it's not entirely clear whether he's offering to take only 40 percent or if he wants Joshua to accept that.
@anthonyfjoshua will except 40% of our fight & will walk first & be announced first, I'm the biggest fight out there for these guys by double. U heard it here first. @EddieHearn," said Fury.
If Fury is already conceding the lion's share of the revenue to Joshua, he'll put a big smile on Matchroom Sport promoter Eddie Hearn's face, because he'd like nothing better than to get a favorable deal for AJ. Fury, 29, is a popular enough fighter to ask for a 50-50 deal against Joshua.
Fury brings a lot to the table for that fight. Only asking for 40 percent barely puts Fury above the status of WBO heavyweight champion Joseph Parker, who is asking for a 65-35 deal. You'd think Fury would deserve well above 40 percent for a fight against Joshua.
Fury already giving into Joshua in the negotiation is not a wise move on his part, as AJ's promoter Eddie Hearn may latch onto that and not let go of it. Fury needs to leave negotiations up to his promoters.
Joshua, 28, has the two heavyweight titles, and possibly he'll have 3 to 4 by the time he faces Fury in 2018 or 2019. That will depend on whether Joshua can beat Parker and WBC heavyweight champion Deontay Wilder. Being the champion doesn't always mean a whole lot, as we saw in the middleweight clash between Gennady Golovkin and Saul Canelo Alvarez last September. Golovkin came into the Canelo fight holding 3 of the 4 world titles at middleweight, and yet he still had to concede the lion's share of the revenue to the Mexican star. Being a champion, even a multi-belt champion, doesn't mean much if your opponent is as popular as Fury.
Fury is still the Ring Magazine heavyweight champion. He brings that to the table. He's the lineal champion. He's the guy that beat Wladimir Klitschko when he was still in his prime 2 years ago in 2015. Joshua fought Wladimir after he'd been inactive for 2 years after a loss to Fury, and he STILL almost like to him. Fury does bring a lot to the table to the Joshua fight.