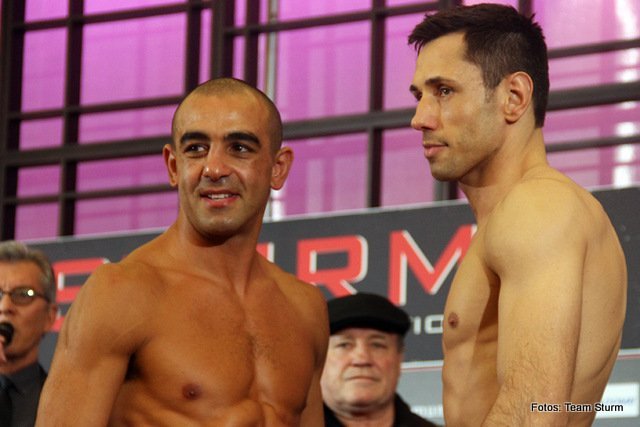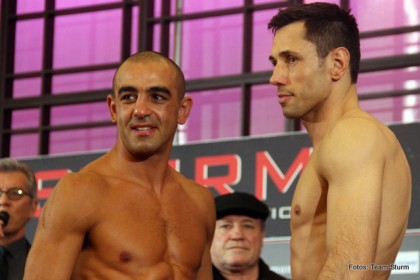 A rematch between IBF middleweight champion Felix Sturm (39-3-2, 18 KO's) and #1 IBF Sam Soliman (43-11, 18 KO's) will be taking place next month on May 31st at the König Palast, Krefeld, Nordrhein-Westfalen, Germany. Soliman and Sturm previously fought back in February of last year with Soliman winning a 12 round unanimous decision that was later overturned and changed to a no contest after Soliman tested positive for a banned substance.
Soliman, 40, has fought once since then in beating Les Sherrington by a 9th round TKO last December in Australia. For his part, Sturm has had two easy stoppage wins over Predrag Radosevic and Darren Barker. The fight against Barker might have turned into a tough one for Sturm if not for Barker suffering a hip injury in the 2nd round that it impossible for him to fight.
Soliman easily beat Sturm last year, and it's hard to imagine Sturm being able to handle Soliman's work-rate, aggressiveness and odd punching angles in their rematch on May 31st. The 35-year-old Sturm is a fighter that likes to fight at a really slow pace in order to conserve his fading energy, but Soliman didn't let him do that last year. Soliman pushed the pace against Sturm and had him looking gassed out after only the 2nd round.
If Sturm is to have any chance in the rematch against Soliman then he's going to need to go for an early knockout. He had Soliman hurt briefly in their fight last year, but he was unable to finish him off. Sturm still has the power advantage in this fight, but if he's unable to use it in the first four rounds, then you can bet that Soliman is going to wear him down quickly and have him looking exhausted in the last 8 rounds of the fight.
Sturm is someone who is more of a paper champion at this point in his career in my view. He's not someone that would match up well against the other champions like Gennady Golovkin, Sergio Martinez or Peter Quillin. Sturm's a decent fighter, but age is starting to rear it's ugly head with his stamina. That's why I see Soliman being able to do wear him down in the rematch, and easily beat him in front of his own German fans. The only way I see Sturm winning this fight is if we see a controversial decision with him getting a win despite being dominated by the much more active and energetic Soliman. I hate to say it but I think Sturm is at the end of the line here.