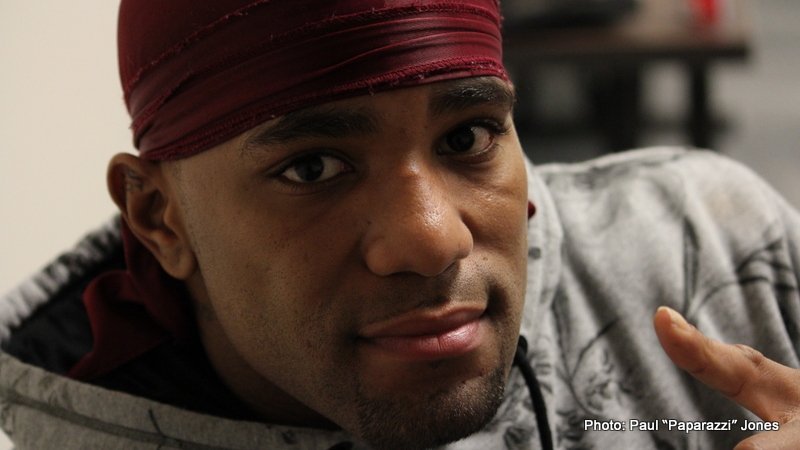 Share the post "OPEN MIC: Curtis "Showtime" Stevens Discusses Johnson, Quillin, Kirkland, Mayweather Jr., and More!"
By Paul "Paparazzi" Jones, Photo © Paul "Paparazzi" Jones
Atlantic City, NJ — This Friday, NBCSN's Fight Night series travels to the Liacouras Center in Philadelphia (PA) and features a heavyweight clash between Steve "USS" Cunningham (26-6, 12 KOs) and Amir "Hardcore" Mansour (20-0, 15 KOs) for the USBA Heavyweight Championship. However, the co-feature of this Main Events promoted card, pitting Curtis "Showtime" Stevens (26-4, 19 KOs) against undefeated prospect Tureano Johnson (14-0, 10 KOs), has "Fight of the Night" written all over it.
A product of Brownsville, Brooklyn, the 29-year-old Stevens has experienced his share of ups and downs since turning pro in 2004. From his early success as one-half of the "Chin Checkers," to lackluster performances against Andre Dirrell (21-1, 14 KOs) and Jesse Brinkley (35-7, 22 KOs), Stevens has shown two qualities that often endear a fighter to his or her fan base: (1) resilience and (2) a desire to compete against boxing's elite.
Since losing to Brinkley in 2010, Stevens is 5-1 with his lone defeat coming at the hands of reigning WBA/IBO Middleweight champ Gennady "GGG" Golovkin (29-0, 26 KOs). And it's no secret that Golovkin is among the most avoided middleweights in boxing.
Eastsideboxing.com caught up with Stevens before the Sergey Kovalev-Cedric Agnew bout for an exclusive interview. As usual, Stevens was candid and unfiltered as we discussed Tureano Johnson, his frustration with the sport of boxing, and his future plans in the middleweight division.
Eastsideboxing.com: In your evaluation of Tureano Johnson, without giving away any of your strategy, what would you say that he does well and not so well?
Curtis Stevens (CS): "[Johnson] pressures very well from what I've seen and the opponents that he's fought. But in my mind, with some of the guys that he's fought and some of the shots that I've seen him knock them out with, I'm saying well you took too long to do that. I'd of done that already."
"All I can say is he pressures you well. Anything else is out of the window."
Eastsideboxing.com: Johnson is on record saying that he looks forward to a "throwback fight" with you. He's also quoted as saying that he can "…get a little barbaric in the ring." Is that something that concerns you?
CS: "That needs to be something that concerns his dumb ass, if he comes in there being barbaric. I'm the one with the power. [Johnson is] talking about he ain't scared of my power [and] this and that. He must be psyching himself out. But to each his own though. When he gets touched, we'll see."
Eastsideboxing.com: A potential fight with WBO middleweight titlist Peter "Kid Chocolate" Quillin (30-0, 22 KOs) has been discussed in the media. Is that fight on your radar?
CS: "Yeah. As long as I keep knocking these guys out and win spectacularly, how could you deny me a title shot? I believe boxing now is more [about] politics than actually how it [was] supposed to be back in the day. The best [are] supposed to fight the best. Now you have the best picking who the fuck they want to fight. I don't even understand how that's come about today. But the fans need to speak up more and bring boxing back to what it was."
Eastsideboxing.com: We all know that the Miguel Cotto-Sergio Martínez bout is coming up (June 7, 2014). Is the winner of that match-up someone you have your sights set on as well?
CS: "I would love to get the winner of that [fight]. Or even [James] Kirkland (32-1, 28 KOs) [if he] moves up. Like I've said, Sergio was injured. I ain't going to say relinquish his title. But make a WBC interim title, and me and Kirkland fight for it now. The winner of Cotto-Martínez could fight [the winner of] me and Kirkland. Golovkin is moving up to fight [Julio César] Chávez, Jr. (48-1-1, 1 NC, 32 KOs), I believe, so who else is there? They've got to stop the politics and the bullshit in boxing and everything will be quite great."
Eastsideboxing.com: You mentioned James Kirkland who has campaigned at 154 lbs. for some time. A lot of folks have wondered how you'd fair at Junior Middleweight. Fights against guys like Saúl "Canelo" Álvarez (43-1-1, 31 KOs) would be great action fights too. Is that a weight that you could make?
CS: "Yeah. Dollars make sense. If it makes sense, I'll make the weight. If it don't make sense, I'm staying right where I'm at. [Stevens laughs]"
Eastsideboxing.com: You've said that fighting Golovkin again is something that you'd entertain. Is a rematch with him something that you're still interested in?
CS: "Yeah. I know what I have to do the next time. I learned from my mistakes and I know what happened. Now I know to go in there, don't think too much, and just let my hands go."
Eastsideboxing.com: If you could have the perfect storyline for your career over the next 2 – 3 years, what would it be?
CS: "After [Johnson], fight Kirkland. After Kirkland, I'd take Chocolate [Quillin]. After Chocolate, Golovkin. After Golovkin, the winner of Cotto-Martínez. But before that, try to grab all the titles and be unified champion of the world. After that, I believe my goals are complete and my life is great."
"That's the only thing I ever wanted to be when I grew up was Unified Champion of the World. You have a lot of people that just want to become a CHAMPION. I wanted to be UNIFIED. When I was younger, I'd always see [Mike] Tyson with the belts here and here [Stevens points to his waist and shoulders]. He was the only guy that I'd see walk to the ring with all his damn [championship] belts on. Fuck somebody holding 'em up, my man Tyson would say, Yeah this is my shit. I've always had that picture. I always wanted to do that, just walk to the ring with all my belts on. And I AM going to do it!"
Eastsideboxing.com: The fans are always happy to see a fighter with a throwback mentality that isn't running from anybody. We wish that more fighters were like that.
CS: "See, people don't understand. The best fight the best. If you don't fight the best, how can you call yourself the best? Like Floyd [Mayweather, Jr.] (45-0, 26 KOs), Floyd is the best. Floyd ain't running from nobody. Floyd says, Oh you think you're the best? I'm going to fight you. So if you fight everyone that people want you to fight or if you fight the best, what can somebody say to you? Now, if you're NOT fighting the best, people are going to have a whole lot of shit to say about you."
"I'll give a prime example: Tureano Johnson. He ain't never fight nobody….Even though you have an impressive record of 14-0, if someone is saying that you fought more bums than [your opponent], how could you be secure with yourself."
Eastsideboxing.com: So we can expect a chin to be checked on April 4th?
CS: "Man…in the first 48 in Philadelphia, ya heard!"
Eastsideboxing.com: It's been a pleasure talking with you and we wish you the best of luck vs. Johnson.
CS: "Thank you. I appreciate it."
More from Paul "Paparazzi" Jones:
Kovalev Grinds Down Agnew; Warns Light Heavyweight Division to "Stay in Shape!"
Hopkins-Shumenov Announce Light Heavyweight Unification Bout
—Questions/Comments:
Contact "Paparazzi" Jones: pjonesfreelance@hotmail.com