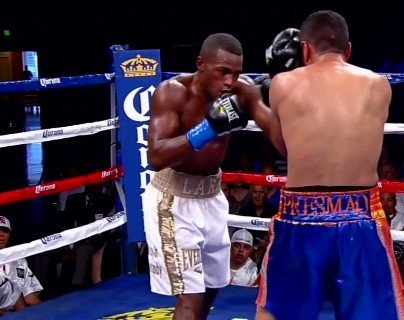 By Joseph Herron – With just four weeks before his big title eliminator contest with undefeated Junior Middleweight contender Vanes Martirosyan (32-0, 20 KOs), WBC number one ranked 154 pound contender Erislandy Lara (17-1-1, 11 KOs) is very excited to be a part of this highly anticipated event on HBO Boxing After Dark from the Wynn Las Vegas on November 10th.
While preparing under the tutelage of world renowned trainer Ronnie Shields in Houston, Texas, the talented Cuban fighter visited with "The Pugilist KOrner" on Tuesday night and gave his thoughts on the upcoming match-up.
"I feel great and I'm training extremely hard for this fight on November 10th," stated Erislandy Lara. "I am very happy to be back on HBO and very excited for the opportunity to face another world class fighter like Vanes Martirosyan."
"Everything is going well in training camp and I have three weeks left to go, but I'm ready to fight right now. I just went ten rounds easy today and I will be very prepared for the best version of Vanes Martirosyan on November 10th."
"In addition to working with trainer Ronnie Shields, I'm currently working with strength and conditioning expert Edward Jackson and everything is going perfectly. On November 10th, I'm going to bust Vanes right in the mouth and earn my title shot against Canelo Alvarez."
With the confidence that comes with being an elite level talent, Erislandy is happy that the WBC title eliminator will be one of the best fighters in the packed 154 pound weight division.
"I don't want any gifts. I want to earn my shot at the title on November 10th. When I beat Vanes, not if…when I beat Vanes, I want to face Canelo in the ring. I don't want any gifts and I don't want Canelo to vacate the title. I want to defeat Canelo to become the WBC Champion after I beat Vanes on November 10th. I want to win my title the right way, so I expect Canelo and the WBC to be true to their word and fight me after I'm victorious."
Previously on "The Pugilist KOrner", the undefeated fighter from Armenia stated that he will indeed have the advantage on fight night because he will have prepared with the better trainer at the Wildcard Gym in Los Angeles, California.
Erislandy had some choice words regarding his thoughts on who currently has the better trainer.
"We will demonstrate to the world that Ronnie Shields is a better trainer than Freddie Roach on fight night," proclaimed the 29 year old Cuban exile. "Ronnie gives a lot more attention to his fighters and everyone will see the difference on November 10th."
"But during the fight, it's not going to matter who he brings to the corner. Freddie's not going to be able to throw punches for him. It's just going to be me and him in the ring so he had better be ready to fight on November 10th."
"If Vanes would like after I give him a beating, we can see who the best trainer is and put Ronnie Shields in the ring with Freddie Roach. We can put gloves on them and let them go for a few rounds. My money will be on Ronnie Shields to win."
Leading into the fight, Erislandy has enjoyed two consecutive and very impressive victories: a TKO triumph over Middleweight Ronald Hearns and a unanimous ten round decision win over tough man Freddy Hernandez.
His last two bouts could be viewed as a snapshot of his entire professional career.
In fights that we've seen Lara take the lead, he usually enjoys early success, resulting in quick knock-outs. But in fights where Lara has been forced to use the entire ring, we usually see the slick Cuban go the distance.
Will a customary counter puncher who likes to use the entire ring adopt a more aggressive fight style against the slick Cuban southpaw on November 10th?
Erislandy Lara believes Vanes' fight tactic won't make any difference on fight night.
"I know Vanes is a very good fighter, but once that bell rings it's going to be a very different fight from anything he's prepared for. I'm going to punish him. After two or three rounds go by, we're really going to find out what he's made of. He's never been in a fight like he's going to be in on November 10th. I'm going to keep punishing him throughout the fight until he quits or his corner stops the fight."
Lara very well might have to stop Vanes to get the victory.
In his last stint on HBO Boxing After Dark, Erislandy was the recipient of a very controversial losing verdict against Paul "The Punisher" Williams on July 9th, 2011. While seemingly landing the harder and more consequential shots throughout the bout, the three judges at ringside scored the contest 116-114, 115-114, and 114-114, resulting in a majority decision victory for Williams.
The talented Cuban fighter believes that the winner will be very clear for everyone to see on November 10th.
"I feel absolutely no pressure to change who I am because of that decision last year. I am going to keep fighting like Erislandy Lara. I'm going to continue to punish my opponents and keep from getting hit, just like I always do. If I knock out Vanes, like I think I will, then there will be no question who the winner is. But if there is no knock-out in the fight, there will still be no question who the winner is. I will decisively beat Vanes Martirosyan in Las Vegas on November 10th."