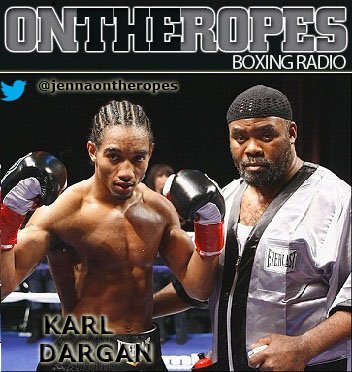 by Jenna Jay (Exclusive Interview by Jenna J) On my 179th edition of "On The Ropes" boxing radio, I had a chance to catch up rising lightweight prospect Karl 'Dynamite' Dargan. Karl Dargan (11-0 6KO's) is currently trained by Naazim Richardson, and recently returned from a 13 month layoff, scoring a TKO4 victory over Jesse Carradine. Karl spoke about his career so far, his recent victory, working with Naazim Richardson, learning from Bernard Hopkins and Shane Mosley, where he sees himself in the lightweight division and much more! Here is what he had to say.
Jenna Jay: Hey Karl, for the fans hearing about you for the first time, tell them a little about yourself.
Karl Dargan: First of all, thanks for having me on your show. Yeah, I am a light weight prospect. 135 pounds. Philadelphia Pennsylvania. Mainly known winning the Pan Am games in 2007. You know fighting my way to the pros to the top actually. Coming along with a lot of experience, but I still have a lot to learn. People seen me fight before, but no one has seen really the best of me yet.
Jenna: You recently returned from a long layoff, how do you feel you preformed?
 
Dargan: My performance it was, it was satisfying. I had a lot about a 13 month layoff. I had a little ring rust a little bet. But I got the job done. So I was satisfied with my performance overall.
Jenna: Was there any reason why you were out of the ring so long?
 
Dargan: Well there wasn't any particular reasons. It's hard to find guys to fight actually. It'd would be, hey do you want to fight Karl Dargan, and they say yeah will fight Karl Dargan. Than they find out it's Karl "dynamite" Dargan, and then they don't want to fight. They pull out, or they price themselves out because they want to so much money.
Jenna: You are a Philadelphia fighter, what does that title mean to you?
 
Dargan: Well a Philadelphia fighter, it's like a trend, I am versatile, so I can't compare myself to other Philadelphia fighters even though I am from Philly, my style versatile, I can do different things.
Jenna: What are your strongest attributes in the ring?
 
Dargan: It's my intellect, I am very intelligent. I am smart in the ring. My intellect is my biggest attribute.
Jenna: You are trained by Naazim Richardson, what's it like to work with someone who has worked with so many great fighters?
 
Dargan: I grew up learning from not even just learning from when he is teaching me, but when he is training, Steve Cunningham, Shane or Bernard, I am always there and learning I think he is going to go down as one of the best trainers in the game. You know hopefully I'll be a part of that.
Jenna: Where do you see yourself among the fighters at Lightweight?
 
Dargan: My position fighting in this weight class is that I am still learning. Within in the next year or two, you know I am looking forward to being in the ring more you know, and you guys seeing me more so you know it will be a lot of competitive fights coming up this year, and going on to the next year. Actually the top of the year going on to next 2 years. You know it will be exciting, and I just hope you guys tune in.
Jenna: You have the nickname of "Dynamite". How did that come about?
 
Dargan: My trainer, he gave me that name and he gave me that name so long ago, that I was either 6 or 7. I really don't remember how I got the name
Jenna: When can we expect to see you back in the ring?
 
Dargan: Hopefully before this year is out. I may be looking at, December 8th date. So we looking in to that. Hopefully I am trying to get back to that date. But within the next 3 months for sure.   
Jenna: How important do you think that will be for you to get on ShoBox or Friday Night Fights?
 
Dargan: TV fights those are good you know. It's a lot of people, that watch boxing, a lot of people that I know, they say I've heard you fighting, but they never got to see me fight, so I am looking forward to be on TV whole lot this coming up year.
Jenna: Anything you want to say to your fans in closing?
Dargan: I just want to thank everyone for there support and following me, and you know tune in it's going to be an exciting year for me. 
***
To find the latest episodes of "On The Ropes go to:
http://www.talkshoe.com/talkshoe/web/talkCast.jsp?masterId=93463&cmd=tc
 
Subscribe to the show on the new i-tunes account:
http://itunes.apple.com/us/podcast/on-the-ropes-boxing-radio-show/id560928485?mt=2&ign-mpt=uo%3D4
 Join the Facebook Group:
http://www.facebook.com/group.php?gid=231954175413&ref=ts
 
Or Follow me on Twitter:
Tweets by JennaOnTheRopes
To contract Jenna Jay:
ontheropesboxingradio@gmail.com