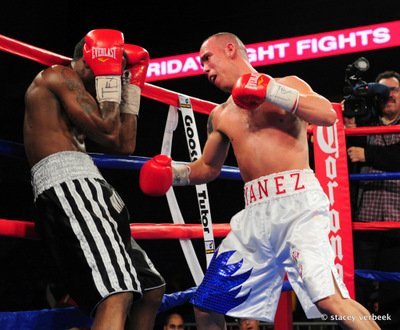 Photo: Stacey Verbeek, By Joseph Herron – Many people claim that one man's disposables are another man's treasure. One hard working promotional group based in Texas believes they've just struck gold with a fighter that most promoters and management groups have deemed unruly.
Earlier this week, Zeferino Entertainment reported the singing of former 2008 American Olympian Luis "Latin Legend" Yanez to a long term, exclusive promotional contract.
Guy Taylor, matchmaker and operations manager of Z Entertainment, is genuinely excited about their diamond in the rough.
"We're thrilled to be working with a special talent like Luis Yanez," explains the veteran matchmaker. "This kid has the makings of a long reigning world champion and the potential to bring excitement back to the Flyweight division."
The 23 year old southpaw has an extensive amateur pedigree that not only boasts a spot on the 2008 US Olympic squad, but a stellar record of 302-16, with 87 knock-out victories as well. And not only was Yanez a captain on the US Olympic squad in Beijing, he became the only American amateur to win a Gold Medal in the Pan American Games at 106 pounds in 2007.
According to Mr. Taylor, "The Latin Legend's" attributes don't stop there.
"Luis is not only an elite level talent, he's an electrifying fighter as well. He's one of most entertaining fighters in any weight division, who genuinely loves to put on a show for the fans. We know that Luis Yanez can bring excitement back to the 112 and 115 pound divisions like previous American greats Michael Carbajal and the late Johnny Tapia."
But since turning pro in 2009, the "Latin Legend" has only fought seven times and has garnered a record of 6-0-1 with 0 knock-outs on his resume.
Z Entertainment vows to jumpstart and rectify the promising young fighter's career.
"Zef and I want to keep Luis active and fight him at least five or six times a year. Yanez is a very hard working and disciplined fighter who already wants to step in the ring with the best fighters in boxing. As soon as he works his way up to fighting in ten and twelve round bouts, he'll get his wish."
While most boxing insiders gave up on the talented southpaw due to stories of management issues and promotional disputes, Zeferino Entertainment has only experienced a very professional and determined athlete in Luis Yanez.
"We were lucky enough to work with Luis and his trainer Denis Rodarte earlier this year on a fight card in San Antonio, Texas, when he defeated current WBC USNBC Flyweight title holder Joseph Rios on March 24th," claims Guy Taylor of Z Entertainment.
"Luis and Denis were an absolute pleasure to work with, and we found no truth to all of the rumors floating around the boxing industry. When we discovered that Luis was a free-agent, Zeferino Ramirez and I thought this was too good to be true. We thought everyone else in the boxing industry must be insane to pass on an elite level talent like Luis Yanez."
"A special fighter with the skill level and natural athleticism of Luis Yanez doesn't come around very often. We know we have a winner and future world champion with the 'Latin Legend'."
In an era of protected fighters and padded resumes, Yanez's willingness to step in the ring with the best fighters in boxing is a breath of fresh air according to Guy Taylor.
"This kid is amazing. He wants to fight guys like Jorge Arce, Brian Viloria, and Hernan Marquez tomorrow. With his amateur success and skill level, it won't take long to get him those big fights. As soon as he gets the rounds in, we want to pit him against the best fighters in boxing. Luis Yanez is that special, and we feel it's only a matter of time before the rest of the world is in on the best kept secret in boxing."