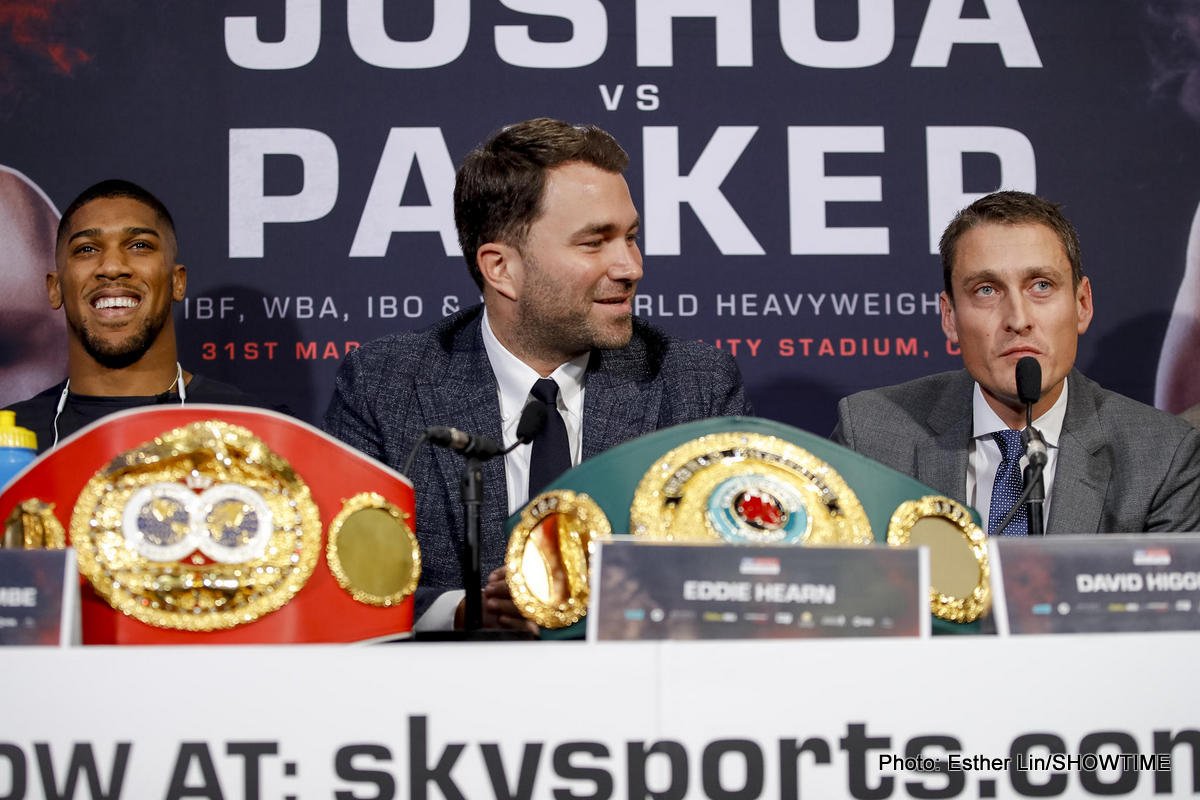 Promoter Eddie Hearn is not alone in thinking a fight between heavyweight power-punchers Anthony Joshua and Deontay Wilder would/will end via a violent KO, one way or the other. Indeed, you would be hard pressed to find a single fight fan, pundit or fighter willing to predict this fight will go the distance should the match-up actually get made.
Hearn, in speaking with IFLTV, said a fight between Wilder and Joshua would be totally different to a Wilder-Tyson Fury rematch; a fight Hearn says could certainly go the distance again. A Wilder-Joshua fight would see "someone's head getting taken off," Hearn said, and he added how he would "quit the sport" if the fight did somehow manage to go the full 12-rounds.
"Joshua would be a lot easier [for Wilder] to hit [compared to Fury] but I also think Joshua would take him off his feet and knock him spark out," Hearn said. "If Josh fights Tyson it's going to be the most amazing event but it's also going to be quite an awkward night. If he fights Wilder it's going to be X-rated because someone's head is getting taken off."
Hearn is, like the rest of us, waiting to see whether or not Fury and Wilder box a return fight next. This sequel to a "good fight," Hearn says, "not a great fight," could happen in the spring, but it if doesn't, if Wilder and his people opt to go the Joshua route next, if a deal can somehow be worked out this time round, Hearn would love to see AJ and Wilder get it on in April. Then we would see just who of the two unbeaten champions would have his head taken off.
Wilder, though, does seem to be aiming for that Fury return – and this time he wants to be a lot heavier than he was on December 1st. For that fight, Wilder weighed-in at an official weight of just 212 pounds (and he says he entered the ring at an even lower 209), and the WBC champ feels his low poundage needs addressing ahead of a rematch with "The Gypsy King."
Speaking with a media scrum recently, Wilder said he aims to add around 30 pounds of muscle to his frame:
"My goal was always to be 245," he said as quoted by Give Me Sport. "That's what my goal has always been. But someone's gonna get hurt. If weight brings big-man power, and I already had the power and the speed, somebody's gonna get hurt."
Make no mistake about it: either Wilder or Joshua will bet hurt if and when they fight, maybe both men – and we will see that violent KO. That or we see the back of Eddie Hearn!