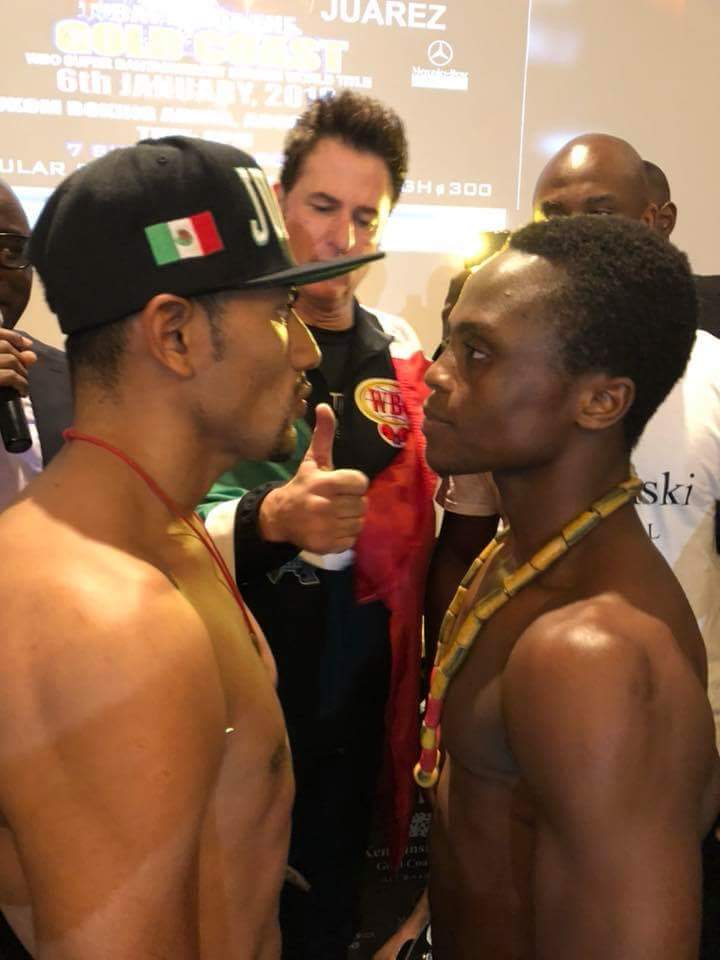 The countdown is almost over and tomorrow night at the Bukom Boxing Arena in Accra, Ghana's Isaac 'Royal Storm' Dogboe and Cesar Juarez of Mexico will slug it out for the WBO interim super bantamweight world title before an expected huge crowd.
The clash between the WBO's number one ranked and number two ranked junior featherweights is promoted by Rising Star Africa Promotions who have promised an exciting atmosphere at ringside come fight night.
And undefeated Dogboe (17-0, 11 KOs) has promised to repay the faith shown in him by the Rising Star Africa Promotions, founded and ran by his dad and trainer, Paul Dogboe by conquering the experienced Juarez to annex the vacant belt.
"It's going to be fireworks tomorrow and I'm urging all my fans to come and cheer me to victory," Dogboe stated at the weigh-in and press conference at the plush Kempinski Gold Coast City Hotel on Friday morning.
"Of course I respect Cesar Juarez, I know he's is a warrior and tough fighter but I'm a matador in the ring. I'm ready to adapt to any thing he throws at me and beat him," the 23 year old said full of confidence.
"I thank Juarez for taking this fight and I thank God that he arrived safely in Ghana but I want him to know that he will return to Mexico empty handed," Dogboe added.
But not be cowed into submission is the rugged Juarez who remained ever calm in the face of unending intimidation by vociferous Ghanaian fans led by the Ghana Boxing Supporters Union (GSBU).
"I am happy to fight here in Ghana, I thank the people of Ghana and see you tomorrow at the fight," Juarez told the highly attended press conference.
The Mexican added: "I'm not worried about the crowd and the noises of the fans because it will be only me and him in the ring, nobody can help him. It's all in my hands and I will make sure I silence him and his fans."