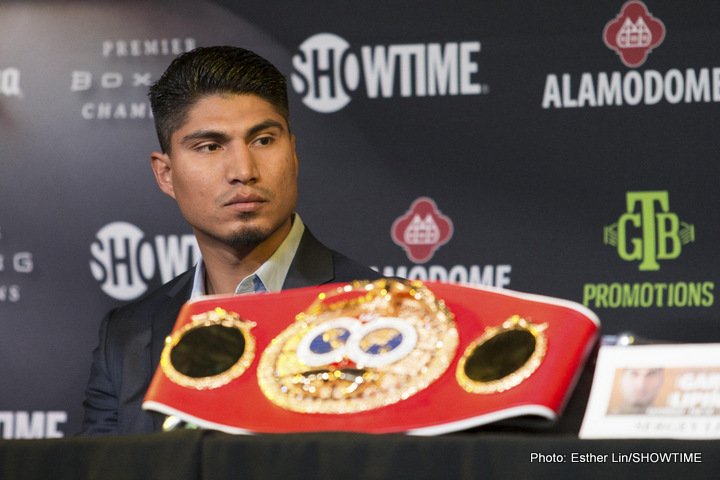 Mikey Garcia and Jorge Linares could be facing each other in the summer at 135 after the 2 of them get done with their interim fights. Garcia (37-0, 30 KOs) wants to fight for the IBF light welterweight title against IBF 140 pound champion Sergey Lipinets (13-0, 10 KOs) on February 10 at the Alamodome in San Antonio, Texas.
If Mikey wins that fight, he'll move back down to lightweight and face WBA champion Jorge Linares in
This will be the second time in a row that Mikey has competed at 140. In his last fight, he moved up to the light welterweight division to face Adrien Broner on July 29 in what turned out to be an easy 12 round decision victory for him.
Broner was so depleted from weight loss that it was impossible to get a clear picture of what Mikey is capable of doing in the 140 lb. weight class. The only thing we know is Mikey can beat Broner, a fighter that was arguably beaten by Adrian Granados last February in Cincinnati. Granados fought well enough to deserve a victory over Broner, but he ended up on the short end of the stick in Cincinnati.
"Golden Boy and I were in discussions to secure the Linares fight, but they themselves also suggested that we could wait, and we both take interim matches," Garcia said to RingTV.com. "They feel the financial aspect of the sport will be better if we wait maybe sometime in the summer."
Golden Boy Promotions might be taking a gamble by having the Garcia vs. Linares fight marinate. If Garcia loses to Lipinets, or looks bad in winning, then it won't work out well for Golden Boy.
The 32-year-old Linares (43-3, 27 KOs) has the much easier fight on his hands compared to Mikey. Linares will be defending his WBA World lightweight title against #15 WBA Mercito Gesta (31-1-2, 17 KOs) this month on January 27 on Showtime Boxing at The Forum in Inglewood, California. Gesta isn't a bad fighter. He's got some power and boxing skills, but he's not in the same class as the hard-nosed Lipinets. Mikey is going to need to get there and trade for him to beat Lipinets, because he's probably not going to fold up like Dejan Zlaticanin.
"I still plan on fighting Linares and I would love to fight him at 135," said Mikey. "He says he's willing to go to 140, but I'd prefer if we fight at '35 so this is the task in front of me first. I have to get through this before I can look forward to other fights, but I still look forward to that fight, hopefully we can secure that for this coming year."
Mikey believes he'll be a pay-per-view fighter before no time. He wants to beat Linares, and then faces Vasyl Lomachenko at lightweight this year. That might not happen. Lomachenko isn't making any noise about wanting to move up to lightweight to take the fight with Mikey yet. Lomachenko might want to take an easier fight against the winner of the Raymundo Beltran vs. Paulus Moses fight to try for the WBO lightweight belt.