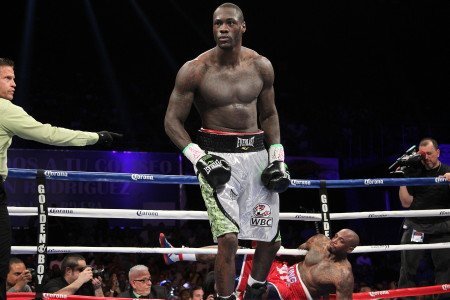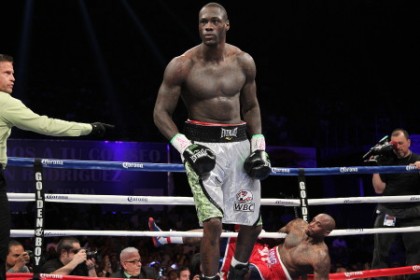 In what was supposed to be his toughest test to date according to most boxing pundits and fight experts, WBC Heavyweight title challenger Deontay Wilder destroyed 13 year fight veteran Malik Scott in just 96 seconds this past Saturday night in Bayamon, Puerto Rico.
The "Bronze Bomber" took care of business with a cracking left hook/straight right hand combination that suddenly floored his 33 year old opponent midway through the opening stanza of the scheduled twelve round contest. Although the experienced boxer/puncher attempted to reach his feet before the referee's final count, Scott failed to show signs of an ability to continue and was counted out by the third man in the ring.
But as quickly as the Tuscaloosa, Alabama native finished the job, fight fans and boxing scribes everywhere began to tarnish his dominant KO performance with sentiments of corruption, regurgitating the idea that the proud Philadelphia born pugilist and fringe contender "took a dive".
In the days leading into WBC title eliminator bout, Many ringside observers and boxing writers reported that the two competing Heavyweights were indeed very close friends, and were concerned that the highly anticipated contest might not live up to its competitive and explosive billing.
Was the 96 second performance a product of friendship and fraternal favor, or was the KO a genuine example of Wilder's "Alabama Power"?
On Tuesday night's episode of "The Pugilist KOrner" radio show, the newly appointed WBC title challenger responded to all of the opinionated conspiracy theorists.
"Malik is my brother and I love him," claims Deontay Wilder. "After the fight, I asked him in the dressing room what had happened in the ring? After stating to me that I hit super hard, he told me that the left hook to the temple hurt him. He explained that his mind was telling him to get up and fight, but his body just wasn't responding."
"People don't understand that a punch to the temple is one of the hardest to recover from. He tried, but he just couldn't get up."
Although the fact that Scott and Wilder's friendship has been exploited and used as evidence, proving a fixed outcome in the minds of most conspiracy theorists, the 6'7" Heavyweight contender insists that friendship among combatants is a common occurrence within the relatively small community of prizefighters.
"This is nothing new. Friendship means nothing to me inside ring. It definitely doesn't pay my bills or feed my kids. I wasn't seeing my friend across the ring from me on fight night. Outside the ring, I'm Deontay Wilder. Inside the ring, I'm the 'Bronze Bomber'. So he wasn't fighting his friend, Deontay Wilder, he was fighting the 'Bronze Bomber'; and the 'Bronze Bomber' doesn't take any prisoners in the ring…he's coming to knock your head off."
"The Bronze Bomber doesn't care who you are on fight night. Malik was the enemy in the ring. I always put that friendship aside whenever I fight…I don't care who you are. When it's time to fight, I know how to turn the switch on."
"I really thought that Malik was going to be the first fighter to take me deep into the fight and I truly believed that he was going to be my toughest test as well. But boxing is one of those sports in which you really don't know what's going to happen. Anything can happen on fight night."
Although the explanation from the charismatic Heavyweight fighter seems plausible, Wilder realizes that every conceivable and possible argument won't be enough to sway or satisfy his detractors or conspiracy theorists.
"People are going to be people," observes the 28 year old contender. "Anything can happen in the ring, especially in the Heavyweight division. I realize that everyone has an opinion of what happened that night, and everyone has that freedom of speech to express that opinion."
"I love it. Because people have to think about me first before they can put my name in their mouths, and that's free advertisement for me. Whether it's good or bad, I promise you…I love it!"