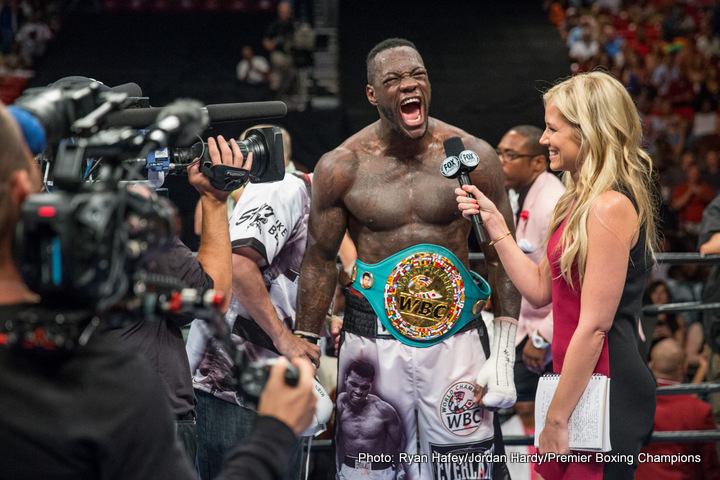 WBC heavyweight ruler Deontay Wilder is all for taking a fight that he believes would see him add the WBO belt to his trophy cabinet. Wilder, who must first return to action for his first fight since last July, against Polish contender Andrzej Wawrzyk on February 25, says he very much wants to fight recently crowned WBO champ Joseph Parker in April.
Parker and his people have gone on record as saying they would like the Wilder fight – and a unification fight can override a mandatory, so Parker's mandatory, Hughie Fury would have to wait – and "The Bronze Bomber" told 78SPORTSTV he wants Parker after Wawrzyk.
"When I heard that (Parker's team want the fight with him) I immediately called my people and said that if all goes well with this fight I have in February , I have no injuries and my hand is healed and can take 100 percent impact on it as well, then I want that fight [with Parker] next," Wilder said. "They are talking about fighting in April and I'd love to come back and fight again in April. A lot of fighters wouldn't do it, come straight back – but I want to make a great impression in 2017."
If Wilder does as expected and flattens Wawrzyk, no great shakes – but if the WBC king takes on and defeats Parker, he will have already had a good 2017. And of course, if Wilder held two belts instead of just one it would not hurt his negotiating power as far as working a deal to fight the winner of this April's Anthony Joshua-Wladimir Klitschko IBF/WBA unification showdown – this fight also being one Wilder says he wants.
It's still a long way off right now, but wouldn't it be something if Wilder, in three fights, closed out 2017 as a four-belt champion! It could happen and fans never turn up their noses at a unification fight. Wilder against Parker could be a fun fight, while the winner against the Klitschko-Joshua victor would be huge.