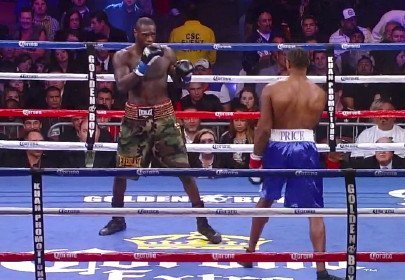 By Michael Collins: Unbeaten heavyweight prospect Deontay Wilder (26-0, 26 KO's) will be fighting this weekend against Matthew Greer (15-8, 13 KO's) in an 8 round fight on the undercard of the super featherweight match-up between Sergio Thompson and Moises Castro at the Centro de Convenciones, Villahermosa, Tabasco, Mexico.
The 27-year-old Wilder is taking a lot of flak for fighting Greer because boxing fans want to see the 6'7" Wilder step it up already and start fighting better opposition. However, this is a stay busy fight for Wilder. He was offered the spot at the last second he agreed just to stay busy and to get an opportunity to be televised on Fox Deportes in the United States.
It's a good fight for Wilder to continue to hone his skills to get ready for the better fighters in the division. Boxing fans don't seem to realize that Wilder didn't have much of an amateur career. While he did win the bronze medal in the 2008 Olympics, he did it after having only small amount of amateur fights.
So what Wilder is doing now is he's making up for what he didn't get as an amateur. There's nothing wrong with that. Look at Julio Cesar Chavez Jr. He didn't star fighting good opposition until he had 40 wins on his resume. You can't fault Wilder if he waits until he's picked up over 40 victories before he finally steps it up and faces the best in the heavyweight division.
Wilder should be ready to take a step up by the time he's 29. If he keeps fighting five times a year, he'll be ready to start facing the best soon. It'll work out well for him because Vitali Klitschko and Wladimir Klitschko will be either retired or nearing retirement.
Also on the card will be unbeaten Ivan Morales facing Patricio Camacho, and featherweight Robinson Castellanos fighting Edgar Ramirez.