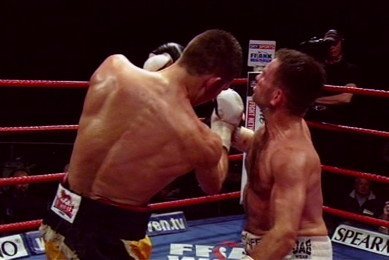 By Marcus Richardson: WBO light heavyweight champion Nathan Cleverly (24-0, 11 KO's) is having to settle for a fight against #9 WBO Vyacheslav Uzelkov (27-2, 16 KO's) on October 27th instead of much bigger fights against Carl Froch, Bernard Hopkins, Tony Bellew and Beibut Shumenov. Cleverly's promoter Frank Warren attempted to line up a fight between Cleverly and each of those fighters but they either showed no interest in facing him or they backed out.
Warren said to thesun.co.uk "A huge purse was put to Froch to move up a weight division — which he turned down — and Bellew rejected the offer of a rematch. It's proved frustrating. We had Hopkins lined up and then he pulled out, while Shumenov didn't want to come over."
Cleverly and the 33-year-old Uzelkov will be meeting up at the Motorpoint Arena, Cardiff, Wales, United Kingdom. It'll be a home fight more or less for the 25-year-old Cleverly, although he probably won't need the cheering from his fans in order to get past Uzelkov. All it'll take is a good chin to hold up under Uzelkov's occasional big right hand shots and a steady workrate to beat him down.
Cleverly is interested in a unification bout against WBA light heavyweight champion Beibut Shumenov. Cleverly hasn't shown a lot of interest in facing WBC light heavyweight champion Chad Dawson, however. Cleverly wants a fight against former WBC light heavyweight champion Bernard Hopkins. It's a big named fighter that Cleverly could possibly pick up a scalp against, but it doesn't look like Hopkins is too interested in facing Cleverly either.
For Cleverly to get to the point where he's popular enough to get the bigger named opponents to fight him he's going to have to stop fighting guys like Tommy Karpency and Uzelkov, and instead focus on getting the quality opponents, even if it means that he has to pay them more to get them inside the ring. Cleverly could really help himself if he were willing to travel to the United States to fight a lot of these guys. The fights would be a lot easier to put together if he were willing to travel outside of the UK to make important fights happen.