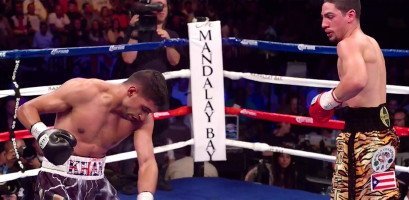 By Marcus Richardson: Amir Khan (26-3, 18 KO's) says he'll be giving an update this week about his next fight in December, and will talk also about his search for a new trainer to possibly replace his existing one Freddie Roach. The rumors are that Khan will be fighting unbeaten light welterweight contender Joan Guzman next on December 15th. It's perhaps not the best choice because HBO might not be interested in taking a risk in putting on a fight between Khan and the 36-year-old Guzman when Guzman has failed three times in the past to make weight in important fights.
Khan said on his twitter page "Updates on my career, opponents and coaches, in next few days. Stay tuned."
The 25-year-old Khan revealed yesterday that he's actively looking to get a new trainer and he's still in the looking stage of the process. Khan has to choose wisely because he's lost his last two fights and another defeat at this time would be a crushing blow to his career. He's made excuses for his defeats to Lamont Peterson and Danny Garcia, but the excuses will wear thin if he takes yet another loss.
Khan's tendency to go to war with his opponents makes him vulnerable to getting knocked out because he seems to get hot-headed when he gets hit hard and makes the mistake of trying to repay his opponents with shots instead of boxing. He can't keep doing this if he wants to turn his career around. If he doesn't listen to what's being taught to him then he'll struggle far into the future even if he has the best trainer working with him and giving him all the time that he craves.
Khan is still young enough to turn his career around and learn some defense if he focuses 100 percent on what his trainer tries to teach him. But he's got to stop brawling and start fighting in a more careful manner if he wins and stay popular.