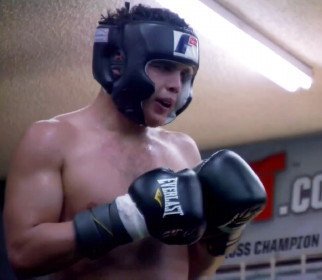 By Marcus Richardson: WBC middleweight champion Julio Cesar Chavez Jr. (46-0-1, 32 KO's) doesn't think too highly of his opponent for September 15th, former WBC middleweight champion Sergio Martinez (49-2-2, 28 KO's) and he plans on shutting his mouth when they face each other in a televised fight on HBO pay per view. The asking price for the fight is $49.99 for boxing fans that have deep enough pockets to shell out that kind of cash in this sorry economy.
Chavez Jr. said this about Martinez today as quoted by Fightnews.com "He's got a big mouth. On September 15th I'm going to shut him up once and for all. He's just a big clown."
Chavez Jr. in fact will be the bigger fighter in the ring on that fight. In looking at recent training video of the 26-year-old Chavez Jr., he appears to be still over 180 pounds and it's unlikely that he's going to get down below 180. Chavez Jr. sees his weight as being a significant factor for him in this fight, although he plans on showing some other wrinkles to try keep Martinez guessing. Chavez Jr. can move a little at times, but he's never shown the ability or the inclination to move for more than a short period.
He's still fights a lot like his famous father Julio Cesar Chavez Sr, and mainly goes after his opponents to try and wear them down in close or at mid range. Chavez Jr. has the height at 6'0″ to box from the outside, but he doesn't like to stay at a distance for some reason. Chavez Jr's has a nice jab, but again he doesn't use that often because he spends so much time trying to wear his opponents down in close.
Martinez can move and punch really well. However, he's not faced anyone that can apply the kind of pressure that Chavez Jr. can since he was beaten in 2000 by Antonio Margarito. Martinez tried moving in that fight but Margarito stayed with him no matter where Martinez moved to. Eventually, Margarito's pressure proved to be too much for Martinez and the fight was halted in the 7th. Whether Chavez Jr. can do the same thing that Margarito did is the big question. Margarito wasn't carrying around 180 pounds when he beat Martinez, and he was a lot lighter on his feet and had a better punch arsenal than the young Chavez Jr.