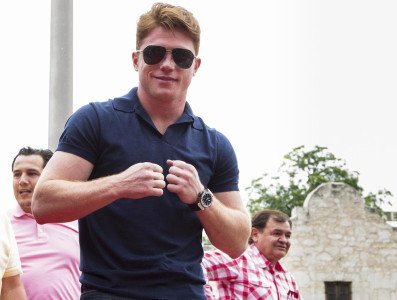 (Photo credit: Esther Lin/Showtime) If the inexperienced WBA/WBC junior middleweight champion Saul "Canelo' Alvarez (42-0-1, 30 KO's) is to have any chance of winning on September 14th in his fight against Floyd Mayweather Jr. (44-0, 26 KO's), Canelo is going to have to find a way to neutralize Mayweather's huge speed advantage over him. Without doing that, Canelo doesn't have prayer in this fight.
Mayweather is a lot faster than Canelo's last opponent Austin Trout, and Canelo had problems with Trout's speed and defense. That fight was very, very close and you ignore the judging for that fight, because those scores didn't reflect what happened in the ring.
Canelo was fortunate to escape with a victory. Canelo gassed out by the halfway through the fight, struggling with Trout's speed, and unable to throw more than a handful of puches without needing rest breaks. Canelo looked like a shorter, much poorer version of Julio Cesar Chavez Jr. in that fight.
Canelo is going to have figure out how to keep Mayweather from moving away from him with his quick feet, and he's going to need to also keep from getting pot shotted by Mayweather's quick left hooks and right hands the way that Robert Guerrero was last May.
Oscar De La Hoya of Golden Boy Promotions has been bragging about Canelo being "sneaky fast" and how the 152 lb. catch-weight will make him even faster, but I think Canelo's hand speed is going to be way too slow for him to match Mayweather in a pot shot fight.
The problem with Canelo is he doesn't seem capable of throwing a lot of punches without breathers to rest. As such, he's going to be kind of in a pot shot war with Mayweather and that's a fight that Mayweather wins easily because he's the faster guy, the more athletic fighter and the way more experienced fighter. Canelo is like a slower version of Juan Manuel Marquez, but with a ton of weight that will make him like a little tank.
Weighing 170 or even in the mid-160s, isn't going to help Canelo against a fighter like Mayweather. It might help Canelo if he were to fight a welterweight with his feet stuck in the mud for 12 rounds, but against mobile welterweight with super hand speed, quick feet and the intelligence not to stand in one place against the 170 lb. Mexican fighter, I think this is going to be a really difficult fight for Canelo try and win.