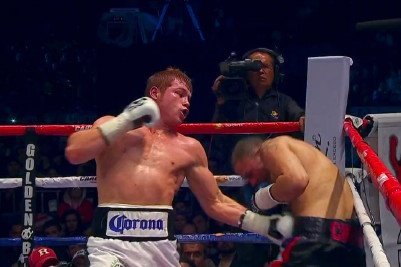 By Rob Smith: Golden Boy Promotions president Oscar De La Hoya says that his record 2.4 million pay per view buys that he got for his fight with Floyd Mayweather Jr. in 2007 could be broken on either May 4th or September 14th this year. On both dates, Mayweather and WBC junior middleweight champion Saul "Canelo" Alvarez will be in action, although not necessarily against each other. Golden Boy wants to match the two fighters together on one of those dates, and De La Hoya thinks that enough boxing fans will be interested in seeing a fight of that nature that it will break his PPV record.
De La Hoya said to RingTV "Those two dates – May 4th and September 14, I'm actually looking forward to one of those dates to break my all-time pay per view record. Those two dates, you're going to see a blockbuster. Blockbuster, that's all you need to know."
There's no question that an Alvarez-Mayweather fight would do well, but it wouldn't break De La Hoya's record. In fact, I don't think it'll come close. De La Hoya was an established star when he fought Mayweather in 2007. De La Hoya was an ex-USA Olympian, he had fought the likes of Felix Trinidad, Shane Mosley, Julio Cesar Chavez, Pernell Whitaker, and Fernando Vargas by the time he fought Mayweather. What can you say about Canelo?
Canelo fought a shot 40-year-old Mosley, 40-year-old Lovemore N'dou, 40-year-old Carlos Baldomir, welterweights Alfonso Gomez, Kermit Cintron and Matthew Hatton. The experience against quality opposition just isn't there for Alvarez, and if Golden Boy keeps matching him against welterweights, he's not going to get that experience. De La Hoya and CEO Richard Schaefer need to match Canelo against Austin Trout next because Canelo badly needs some credibility as a champion. He's not going to get that fighting guys like Mosley or whatever welterweight that Golden Boy can dig up for him to get easy wins against.
I see a Mayweather-Canelo fight bringing in 1.5 million PPV buys tops. Canelo isn't well known enough with casual boxing fans to make it a huge fight. Casual fans know who Mayweather is in the United States, but not Canelo. He's just not a household name yet, and a big part of the reason for that is because of the easy match making Golden Boy has done for him. He's 22, and that's an excuse to some boxing fans for Canelo having easy opposition, but he shouldn't be the WBC champion if he's not going to face the best opposition from the junior middleweight division. If he wants to fight welterweights, then he should move down to 147 or 140, since his last opponent Josesito Lopez is a light welterweight.