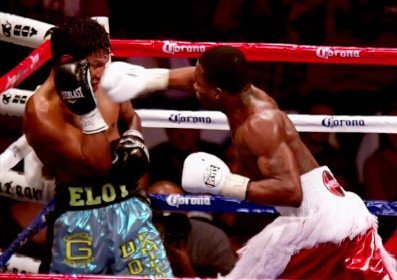 By Michael Collins: Adrien Broner (24-0, 20 KO's) will be targeting WBO lightweight champion Ricky Burns (35-2, 10 KO's) after the 23-year-old Broner takes care of business next month against WBC lightweight boxing champion Antonio DeMarco (28-2-1, 21 KO's) on HBO boxing at the Boardwalk Hall, in Atlantic City, New Jersey, USA.
Broner's trainer Mike Stafford said to Bleacherreport.com "We'll go to Ricky Burns and get that other title. He'll [Broner] be too fast, too smart and he's (Burns) not strong enough, these guys are too slow for Adrien. He's a special guy, a special guy."
I agree with Stafford 100 percent. I think Burns would be like Jason Litzau, a fighter that Broner took out in a 1st round TKO last year in June. It would be too easy beating Burns. The only advantage thing that Burns has going for him is his height and his weight, but against Broner the weight would be the same for both fighters, so Burns wouldn't have his customary size advantage. He'd be taller, to be sure, but the reach and the weight would be the same. The height wouldn't help at all and Burns would just get knocked out quick by Broner.
The much harder fight for Broner in my estimation is his fight with DeMarco next month. DeMarco is a much bigger puncher than Burns, and he makes it a lot tougher with his ability to bomb Broner with potential knockout shots. DeMarco is like a bigger, more dangerous Daniel Ponce De Leon, who Broner had problems with last year in March. Broner won the fight but it was plenty close.
Broner has to find a way to get to DeMarco and blast him down without getting caught too many times by DeMarco's big shots. As good as Broner is, DeMarco could expose him if he's able to land his big power shots enough times in this fight.