As fight fans know, for the first time in history, two British fighters hold between then all four major world heavyweight titles. Tyson Fury, WBC (and also the claimant of the lineal crown) and Anthony Joshua, WBA/IBF/WBO.
Together, the two British rivals own all the marbles. With the demise of Deontay Wilder, America has been looking out for the next man who might be able to one day bring at least a slice of the world heavyweight championship "back home" to the US.
Here are six young, unbeaten and talented US heavyweight prospects who just might be up to the task one day in the future.
1: Jared Anderson. Nickname "The Real Big Baby." Age: 21. From Toledo, Ohio. Pro record: 8-0(8).
In his most recent fight, the 6'5″ big guy with the quick tongue and the fast hands was extended into the sixth round. For a while it looked as though Anderson would have to hear the final bell for the first time. But then, in the fading seconds of the sixth, Anderson whacked out kingsley Ibeh with a thudding left hand to the head, the shot leaving Ibeh flat on his back.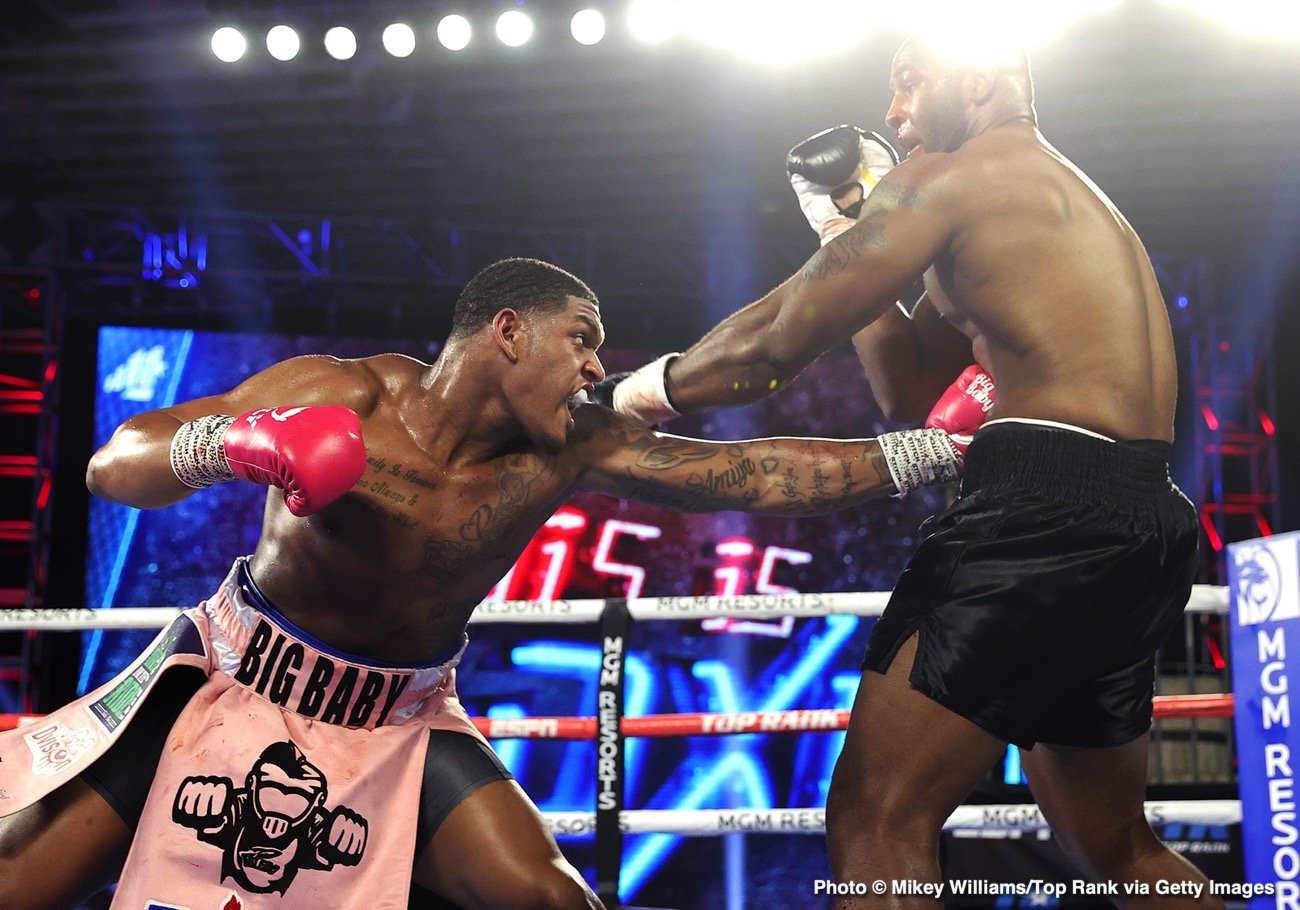 2: Michael Polite Coffie. Nickname N/A. Age: 34. From The Bronx, New York. Pro record: 12-0(9).
In his most recent ring appearance, Coffie, who also stands at 6'5," ruined Darmani Rock's unbeaten record via third-round KO. Coffie's uppercut literally turned heads – Rock's as well as impressed fight fans. The obvious red flag here is Coffie's age. But the New Yorker is fresh having come to the sport late and he is a very hard worker in the gym. Coffie has already vowed to bring the heavyweight belts back home.
3: Stephan Shaw. Nickname "Big Shot." Age: 29. From St. Louis, Missouri. Pro record: 14-0(10) with 1 no contest.
In his last fight, Shaw, who stands 6'4," was taken eight rounds for the first time. Shaw won a UD over Lyubomyr Pinchuk. Heavy-handed and fluid in the ring, Shaw has reminded some fans and experts think of James Buster Douglas. Shaw had just one fight in 2020 and he hopes for a more active 2021.
4: Hasim Rahman Jr. Nickname "Gold Blooded." Age: 29. From Baltimore, Maryland. Pro record: 10-0(5).
Last time out, the sin of the former heavyweight king got a stoppage win over Alejandro de la Torre, having been taken the distance by the Mexican in a prior fight. Rahman Jr of course has the big name value but 6'3″ prospect who is based in Las Vegas might have the necessary tools to make his own mark on the sport. Rahman Jr does need to be more active, however.
5: Jermain Franklin. Nickname "989 Assassin." Age 27. From Saginaw, Michigan. Pro record: 20-0(13).
Last time out, the 6'2″ Franklin pounded out a unanimous decision over Pavel Sour. That was in October of 2019 and Franklin needs to get back in action soon. The downside on Franklin is the fact that a lot of people felt he actually lost the split decision win he picked up over Jerry Forrest in July of 2019.
6: Cassius Chaney. Nickname "C.O.G." Age 33. From Baltimore, Maryland. Pro record: 20-0(14).
Standing an impressive 6'6," Chaney stopped Jason Bergman in December for his most recent effort. Time is not on Chaney's side perhaps but Chaney is looking to stay active.
So how about you, have any of the above fighters grabbed your attention?