"I have recently become a secret connoisseur of 'last looks'. You know the way people look at you when they believe it's for the last time?" -Drew Baylor, Elizabethtown (2005)
When Mike Tyson blasted Clifford Etienne to smithereens inside 49 seconds on February 22nd 2003, little did we know it would be our last look at the man known as "Iron". The former Undisputed king would fight on, suffering increasingly embarrassing stoppage defeats to Danny Williams and Kevin McBride. But as Tyson stood menacingly over the prostrate "Black Rhino", it would be our last look at the fearsome animal who had captivated and repulsed mainstream boxing in equal measure for two decades. Michael Gerard Tyson would shuffle on for a little while longer, but this was our last true look at "Iron" Mike.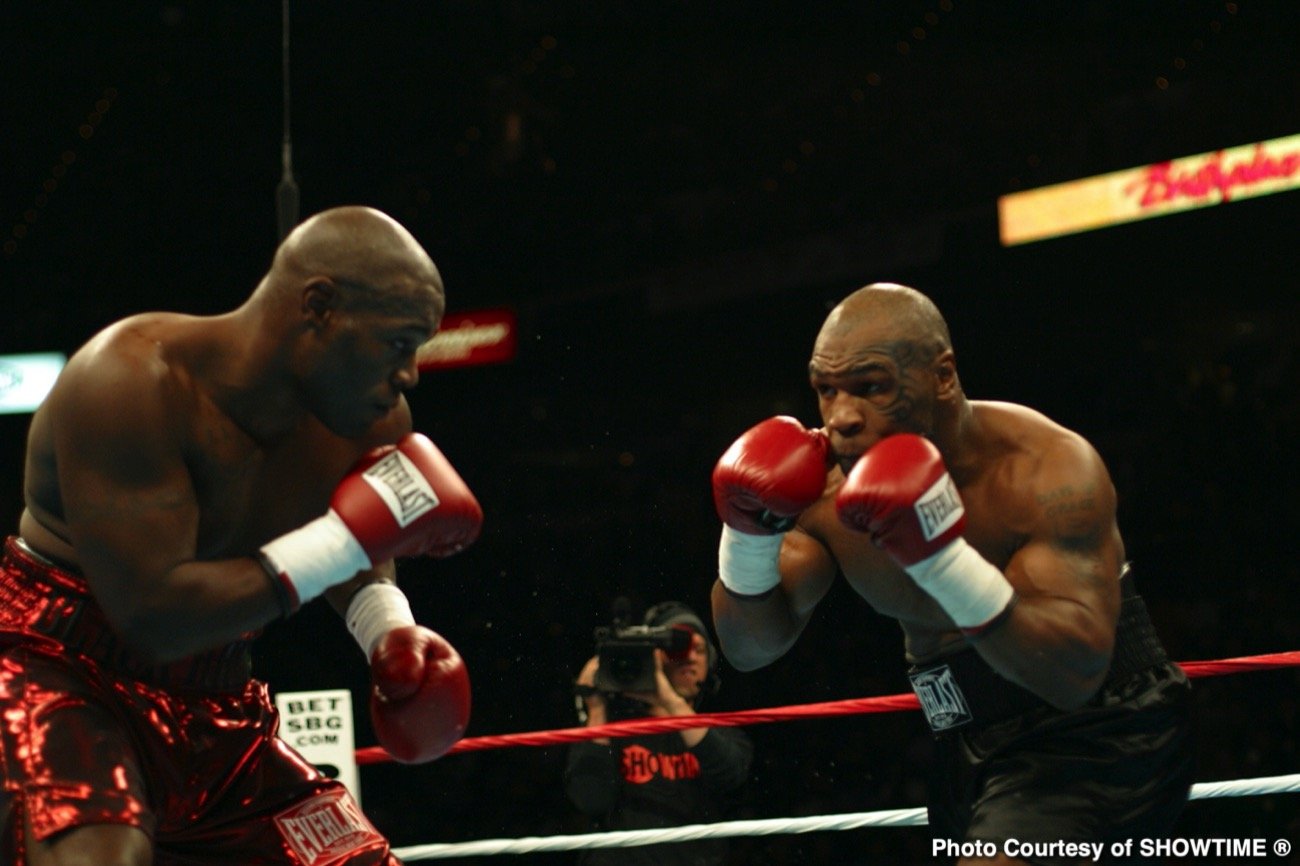 The Etienne fight was not intended to be a last hurrah. Dubbed "Back To Business", this was supposed to be the start of another Tyson ascent rather than a coda to his enormous legacy. The Pyramid in Memphis, Tennessee, that housed this sub-minute whirlwind had also played host to Mike's failed attempt to wrest away Lennox Lewis' world heavyweight championship the previous year. A chastening defeat, the Brit had prodded and pounded away every remaining shred of the fearsome Tyson aura on the way to an eighth-round knockout. Many thought the fabled son of Catskill, New York should call it a day in the aftermath. To Mike's credit, despite the comprehensive emasculation he had suffered at Lewis' fists, he humbly asked the champion for a rematch. Few sat at ringside in the Home Of The Blues that night would have argued the night's events warranted a return.
Money talks, and nowhere is that voice a more booming baritone than the world of professional boxing. Having generated a record number of pay-per-view buys, the one-sided nature of the fight was forgotten and talk swiftly turned to getting the two most bankable heavyweights in the sport together once again. As these discussions bubbled in the background, it was decided that "Iron Mike" would fight in the interim. Fringe contender Clifford Etienne was chosen, a 24-1-1 slugger with the scalps of future WBO titleholder Lamon Brewster, Lawrence Clay-Bey and Cliff Couser on his ledger.
Freddie Roach was training Tyson at the time, and he had misgivings that his man would be ready for the challenge of Etienne. There were fears about the conditioning of the man once dubbed "Mighty Mike". The wise veteran need not have worried, after being drowned in the deep water by Lewis, Tyson barely needed to skim the surface on this February night. Against Lewis, Tyson had enjoyed success in a hot first round, putting the bigger champion under considerable pressure before fading in subsequent rounds. Having enjoyed 21 first-round KOs coming into this 2003 battle, there is an argument Mike Tyson remained the best one-round fighter on the planet. He wouldn't even need a full third of a round to complete his task against Etienne.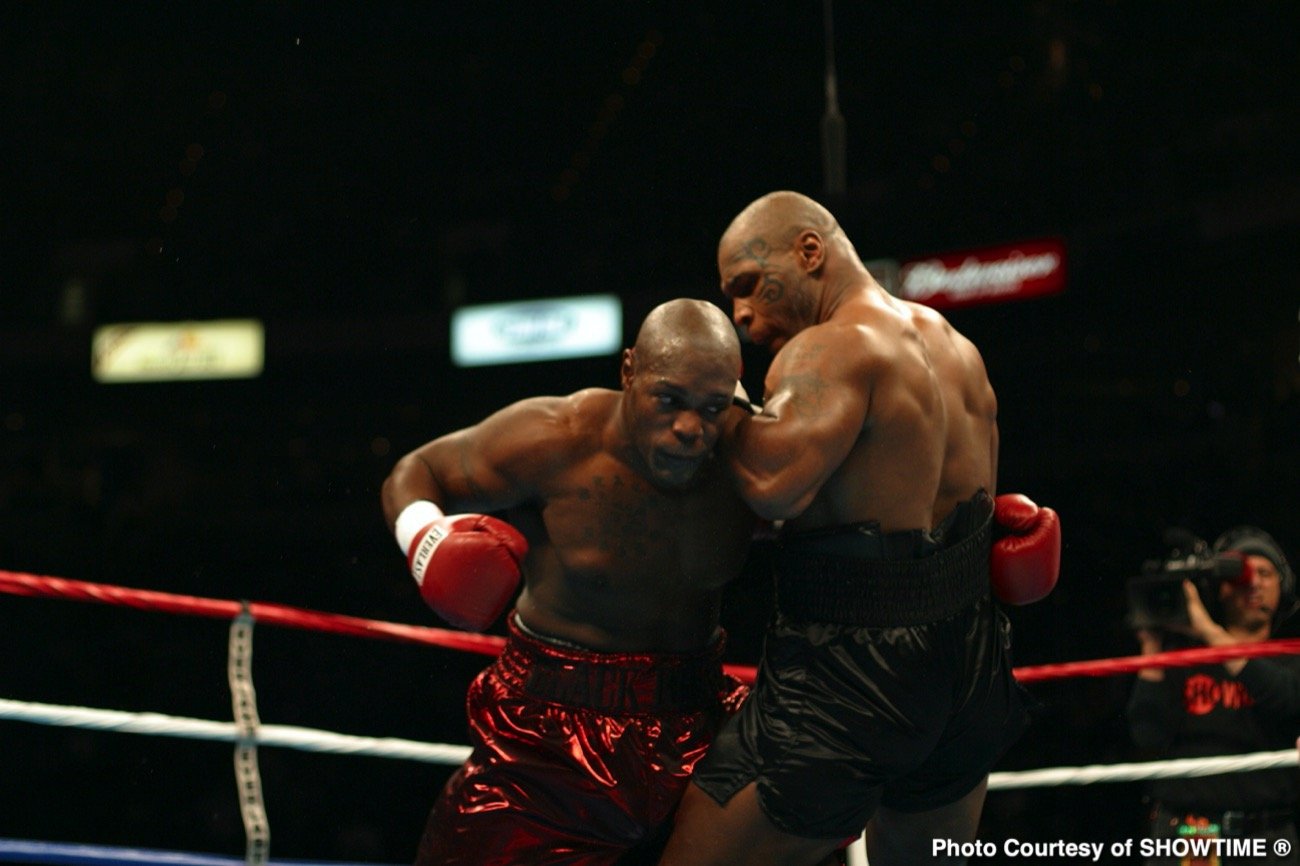 Pumping out the jab from first bell, the future Hall Of Famer works his way inside before eating a pair of glancing rights from his opponent. As the pair fall into a clinch, Etienne's momentum leads to the pair tumbling to the canvas in a primitive version of an MMA takedown. When the action is returned to centre-ring, there is a clear change in Tyson's demeanour. No longer guided inside by his jab, he wings a left hook over the head of his prey before crashing a right uppercut off Clifford's chin. "The Black Rhino" answers with wild swings, each missing their target.
The combatants emerge from another clinch with Etienne pawing out with his jab. Tyson slips underneath and throws a left hook which is evaded. However Etienne's defensive movement leaves him open for a short right hook that knocks him flat. Clifford can only remove his mouthpiece in a daze as he is toppled. "Iron" Mike Tyson has struck again. The brevity of the fight, the savagery of the finish. You'd be forgiven for thinking it was 1986 all over again. A few seconds of ring time, and a world-ranked contender knocked out. This is what Mike Tyson does.
We would never see him do it again. This masterpiece of destruction would be the 50th and final victory of Mike Tyson's professional career. A last look at the destructive boxing genius before his powers faded irrevocably. In hindsight, this would have been a perfect note to end on. A sweeter farewell than the brave but flawed Lewis challenge. Certainly a more edifying one than if he had never re-emerged from 1997's "bite fight" with Evander Holyfield. Tyson's legacy at this point was bruised, but not battered. Sadly with mishandled finances and mounting tax bills to answer, this would not be the last time we saw Mike in a prize ring.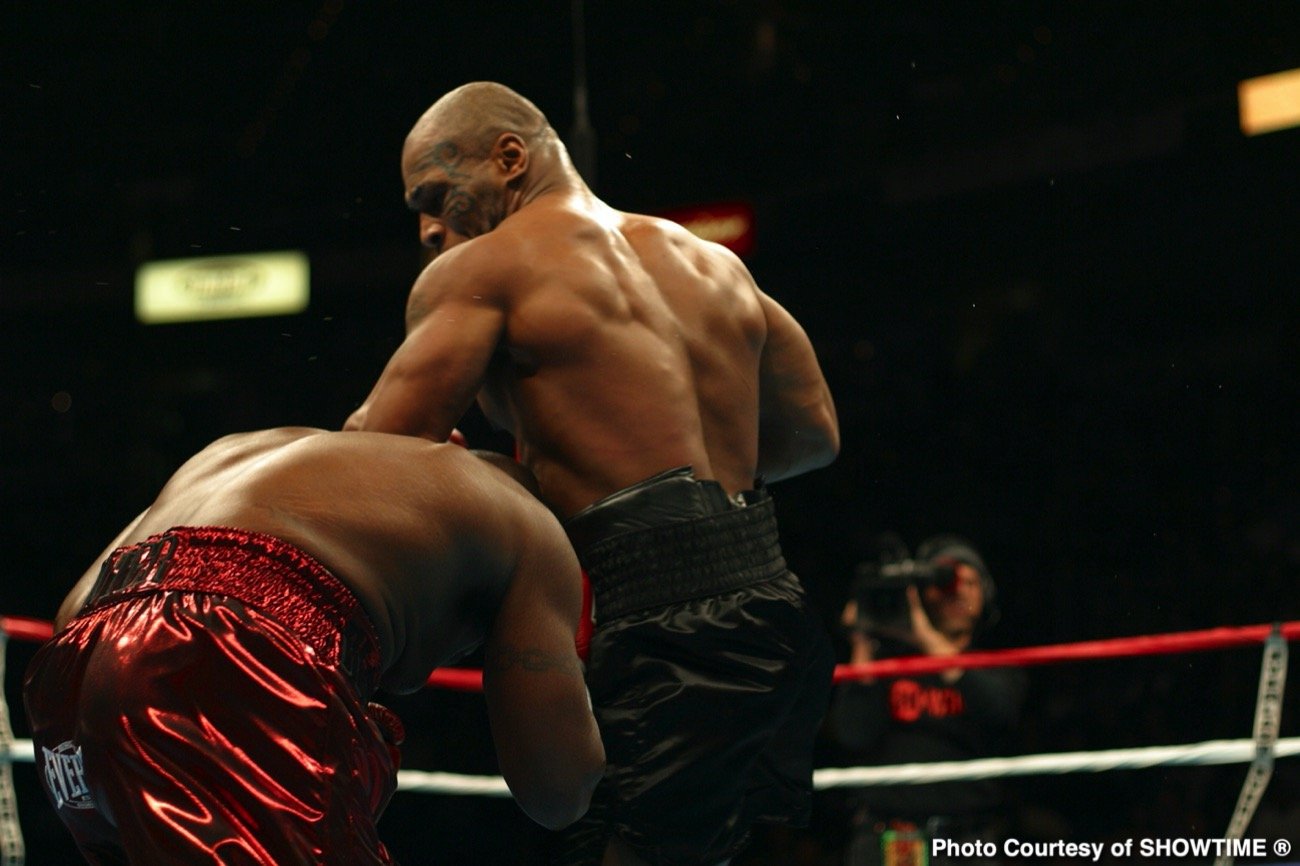 The Lewis-Tyson II wheels would stop turning when Mike missed a deadline set by the champion to negotiate a rematch, the reason being that he favoured two more tune-up fights before stepping back into the lion's den. Had this been granted, the likelihood remains that the Memphis mauling would have never seen a return. Tyson's next two foes, Danny Williams and Kevin McBride, both carried the air of tune-up bouts when they were announced. Both fighters would defeat Tyson by stoppage, putting a conclusive and brutal end to one of the most memorable ring careers ever seen.
This story has a happier ending in 2021 than if it had been written in a previous year. Mike Tyson looked closer to "Iron" than he had since the Etienne fight when he met the iconic Roy Jones Jr. in an exhibition bout last November. There was no thunderous one-punch knockout, but also none of the sad decline we had seen in Mike's last two pro bouts. Tyson turned up in incredible shape that defied his 54 years on this planet, and moved well in the unofficial split-draw. Most observers felt Tyson had done enough to warrant the judge's nod, an impressive feat considering Jones had boxed professionally as recently as 2018.
If this is the closing chapter of Michael Gerard Tyson's legacy, it is a sweet note to end on. But as last looks go, "Iron" Mike Tyson was left behind in a Memphis ring in 2003. A crushing crescendo to a career that thrilled, baffled and brutalised.