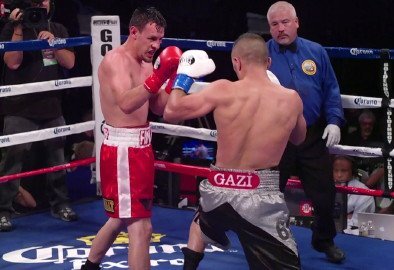 By Joseph Herron — With big fights currently scheduled on the remaining 2012 boxing calendar for many of the top 147 pound fighters, fight fans are curious who reigning interim WBC Welterweight Champion Robert "The Ghost" Guerrero (30-1-1, 18 KOs) will be stepping in the ring with next.
Talented young boxing manager Luis Decubas Jr, gives us a glimpse into the future plans of the four division world champion.
"Robert is in a very good position right now," insists the lifelong boxing proponent. "He's a very hot fighter at this time, coming off of a very impressive performance against one of the highest rated Welterweight fighters in the world in Selcuk Aydin. He picked up his fourth world title in his first fight at the 147 pound weight class, and this was coming off of a 15 month period of inactivity. He made a big statement with the win."
"There are so many great fights to be made in the division right now with Berto, Maidana, Alexander, and Malignaggi. We tried to make the fight with Timothy Bradley and he turned us down. Bradley feels that he has a very good chance of getting the winner between Pacquiao and Marquez, so he didn't want to risk fighting a guy who would beat him."
"So instead of making a fight with Robert a reality, he will more than likely choose to face a guy that he's already dominated in Lamont Peterson."
Although "The Ghost" is currently wearing a piece of championship hardware around his waist, Luis Decubas Jr. asserts that getting Robert a big fight with one of the top fighters in any division has been a real challenge.
"Robert has been a much avoided fighter at 135, 140, and 147. We've been turned down previously by Chris John, Juan Manuel Marquez, Juan Diaz, Rocky Juarez, and all of the top fighters in their respective weight divisions. But Robert will finally get his big opportunity very soon and we are trying to make it happen for this year."
"We are currently working on some things so I really can't be specific at this time, but I can tell you that it's going to be a huge fight in the Welterweight division. I can also tell you that it's going to be a much bigger fight than Tim Bradley."
One of the reasons for the boxing manager's optimism is the fact that Robert Guerrero currently possesses a quality that fight promoters can't ignore.
"He's a hot fighter right now. The biggest difference between Robert and a lot of fighters in the division is that he has a big fan base around his home area and is a legitimate ticket seller in boxing. Other fighters who can't sell tickets and don't have a large following need to be paired with a marketable guy like Robert Guerrero."
"So we fully expect for Robert to walk into a very big fight by the end of this year, and the next step will be Floyd Mayweather Jr."
Although no immediate plans have been announced by Floyd Mayweather Jr. concerning his return to the ring, Luis expects to see "Money May" return sometime next year.
"After being incarcerated for either one day or three years, it's never an easy thing. So Floyd is simply enjoying his freedom at this time and spending time with his family. Only Floyd knows what Floyd is going to do. But just by looking at the way he likes to spend money, I have no doubt that he will be fighting for the next several years, and we think the chances of putting together a blockbuster fight between Floyd and Robert are very high."
Despite the obvious difficulties in making a preferred fight with the chameleon-like Guerrero and other top fighters in the sport, Decubas Jr. anticipates a very big announcement very soon concerning a bout with another popular Welterweight fighter.
"Although I can't specify any names at this time, expect to hear the news of a blockbuster fight between Robert 'The Ghost' Guerrero and one of the highest rated fighters at 147 within the next several weeks."