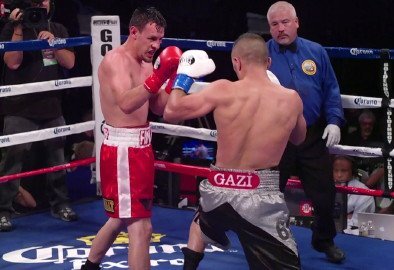 By Michael Collins: WBC interim welterweight champion Robert Guerrero (30-1-1, 18 KO's) wants former WBO super featherweight champion Adrien Broner to come up all the way to welterweight to fight him without a catchweight. Guerrero feels that Broner, who has never even fought at lightweight, should move up from super featherweight three divisions to face him at welterweight. Why Guerrero doesn't want to meet Broner at a catchweight is unclear but you have to wonder if he's worried about how he would performance against Broner if a catchweight were used.
Guerrero also thinks a fight between him and unbeaten WBC welterweight champion Floyd Mayweather Jr. is possible, saying to Ryan Maquinana at csnbayarea.com "It's possible to make the fight. Everything's there to do the fight. I just think he might go out without a fight, just give up the [WBC] title. We'll see what happens…If he wants it, he can come get it."
Guerrero is referring to his interim WBC title. Why Mayweather would want that title when he has the full WBC title is the big question. I think Guerrero is wrong about Mayweather losing his title. The World Boxing Council might be a little reluctant to strip Mayweather given the huge sanctioning fees they can get for his fights. I think Mayweather getting stripped of his WBC title would be something that might take a long time to happen, because Guerrero just doesn't bring in the same kind of money that Mayweather does. sure, the WBC can strip Mayweather of his title and then give it to Guerrero, but what will they have then? Guerrero barely beat Selcuk Aydin in his last fight.
Honestly, Guerrero will be lucky if he can hang onto the interim strap or full title for more than one fight unless he chooses to fight fringe contenders ranked near the bottom. Guerrero just doesn't have the power or the stamina at welterweight to compete with the likes of Mayweather and Andre Berto. Of course, winning doesn't really matter. Guerrero would win big time if he even got a fight against Mayweather. I'm talking about the money Guerrero would get just in fighting Mayweather. It won't matter that Mayweather Jr. will likely totally dominate Guerrero and make him look bad in an easy win. Guerrero would make millions in losing and that would obviously cushion the blow.
But I think it's all pipe dream anyway for Guerrero, because Mayweather isn't going to waste a fight against a guy that doesn't have a huge fan base like Guerrero. IF the WBC threatens to strip Mayweather if he doesn't fight Guerrero, that likely won't change anything. Mayweather would just give up the belt and go pick up another one from someone else if that was what he was into. Mayweather is beyond belts anyway. He fights the best guys and ignore titles.
Guerrero said this about Broner to Csnbayarea.com: "If you're going to challenge somebody, you challenge them and go to their weight."
It's too bad Guerrero isn't interested in fighting Broner at a catchweight because if he could meet him at say 140 lbs or 142lbs, that would be a great fight.