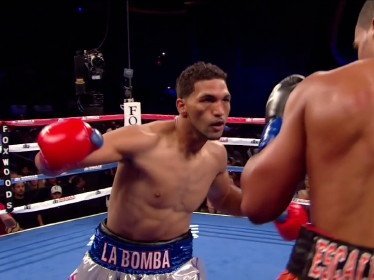 By Joseph Herron – After his dominant performance against previously undefeated KO artist Jason Escalera on HBO Boxing After Dark two weeks ago, Super Middleweight contender Edwin "La Bomba" Rodriguez (22-0, 15 KOs) immediately issued a challenge to former universally recognized Middleweight Champion Kelly "The Ghost" Pavlik.
Although the superb match-up would be one of the more fan friendly pairings that could possibly be made in the talent enriched division, the Youngstown, Ohio native stated through numerous media sources that Edwin isn't an accomplished enough fighter to make a truly meaningful fight at this stage in his career.
The Dominican born puncher had much to say about Kelly's public commentary on the October 9th edition of "The Pugilist KOrner".
"In a recent interview I read, Kelly Pavlik stated that I was horrible and that he would rather watch paint dry than watch one of my fights," stated Edwin Rodriguez. "He also stated that there wasn't enough money in a fight with me at this time."
After headlining HBO Boxing After Dark and closing the show with a resounding bang, "La Bomba" found great folly and hypocrisy in Kelly's response.
"Kelly had no problem fighting Will Rosinsky, who I just defeated, and fought Scott Sigmon on ESPN for very little compensation. So that excuse doesn't sit well with me. If I'm so horrible of a fighter, Kelly should step in the ring and prove it because most fight fans have stated that they would love to see a fight between me and Kelly Pavlik."
Probably a little closer to the truth is the idea that Edwin is currently considered by Top Rank and Pavlik's manager, Cameron Dunkin, to be too much risk for the reward.
"I have faith in my promoter, Lou Dibella, and my manager, Larry Army, to put me in the best fights possible. I'm very happy with the way that they've guided my career to this point. All I can do is continue beating every fighter they put me up against. If I continue to win, fighters like Kelly Pavlik will have no choice but to face me."
After defeating James McGirt, Aaron Pryor Jr, Will Rosinsky, and Donovan George almost consecutively, the unbeaten Super Middleweight contender believes that he is ready to face the best in boxing at this time.
"Against Will Rosinsky, I was focusing on offense almost exclusively and was getting hit too much. Against Donovan George, I was too focused on defense and didn't let my hands go enough even though I decisively won the fight. In my most recent performance against Jason Escalera, I finally was able to put it all together. I felt really good and combined my offense and defensive skills effectively. I think most fighters in the division saw that and realize that I would be a very tough outing at this stage in my career."
With an undefeated resume and another child on the way, the future couldn't be brighter for the promising young Super Middleweight contender.
"There is always room for improvement, but I was happy with my performance against a strong, undefeated fighter on HBO. So I'm just currently enjoying time with my family and waiting for my promoter and manager to put me in the best fight possible. My wife Stephanie and I are expecting another baby, so I feel really good about everything right now."
"I want to thank all of my fans for following my career. Anyone can follow me on twitter @LaBombaboxing."